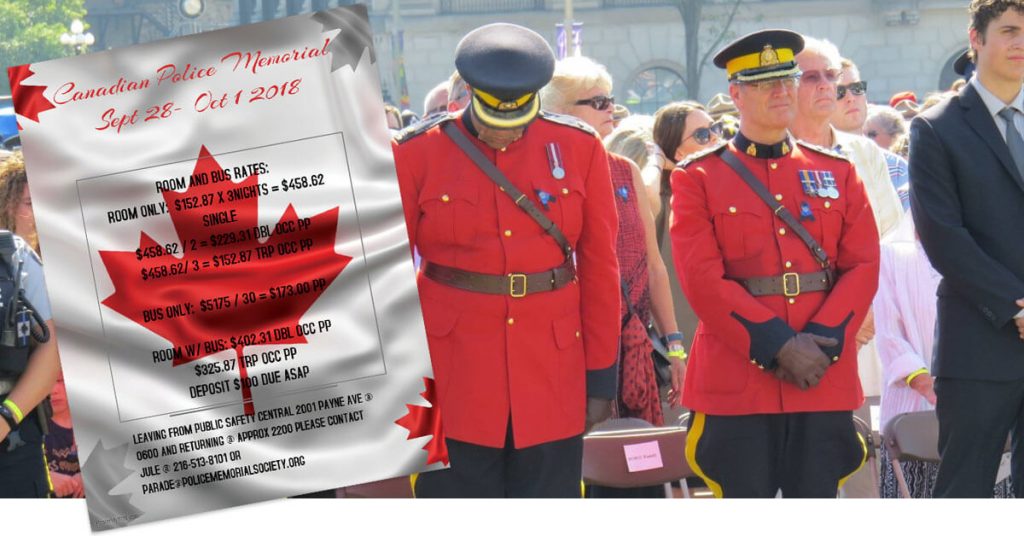 Hosted annually by the Ottawa Police Service and the Canadian Police and Peace Officers' Memorial, this event gives Canadians an opportunity to formally express appreciation for the dedication of police and peace officers, which made the ultimate tragic sacrifice to keep our communities safe. In solidarity, the Greater Cleveland Peace Officers Memorial Society is coordinating a trip to Canada from Cleveland, and we would love it if you could join us.
Room and Bus Rates
Room only
Single: $152.87 x 3 nights = $458.62
Double: $458.62 / 2 = $229.31 DBL OCC PP
Triple: $458.62 / 3 = $158.87 TRP OCC PP
Bus only
$173 PP
Room with bus
$402.31 DBL OCC PP
$325.87 TRP OCC PP
Deposit of $100 due ASAP
Make $100 Deposit Payment
We're leaving from Public Safety Central, 2001 Payne Ave. at 6 a.m. September 28, and returning around 10 p.m. Oct. 1, 2018.
To reserve your spot and make the $100 deposit, please contact Jule at 216-513-8101 or parade@policememorialsociety.org.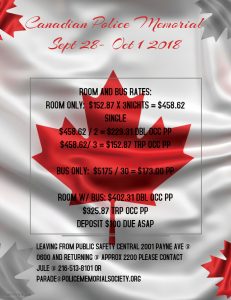 Spread the word with this flyer!
History of the Memorial Service
In 1978 the first Memorial honoured 14 officers. In 2017 the names of over 860 fallen officers are engraved on the Honour Roll tablets, which are now located in their new temporary location, along the perimeter wall on Parliament Hill, near East Block, close to the "Famous Five" statues.
The murder of Ottawa rookie Cst. David Kirkwood, on July 11, 1977, launched a response that, today, has become the nationally recognized ceremony honouring police and peace officers killed in the line of duty. Following Kirkwood's senseless killing, Ottawa police officers vowed to keep his memory alive and to ensure that the magnitude of his sacrifice, and that of others like him, would never be forgotten by Canadians.
Accordingly, on Sunday, September 24, 1978, a special service and tribute was held. The site selected was Parliament Hill, the place where laws are made that directly impact on police officer safety and, ultimately, the quality of life for us all. Following that first ceremony, a number of features have become tradition and, at the same time, some modifications to the event have occurred as well.
The ceremony was expanded to honour other police officers murdered in the line of duty and this criterion of inclusion was itself modified years later to include all officers killed in the line of duty. This current criterion has been applied retroactively, and names of officers killed in the line of duty, from years gone by, are now being added to the Memorial stone. The original ceremonies were limited to police and correctional officers killed but that criterion was expanded, in 1995, to include all peace officers so that all areas of law enforcement are now included in one single ceremony.