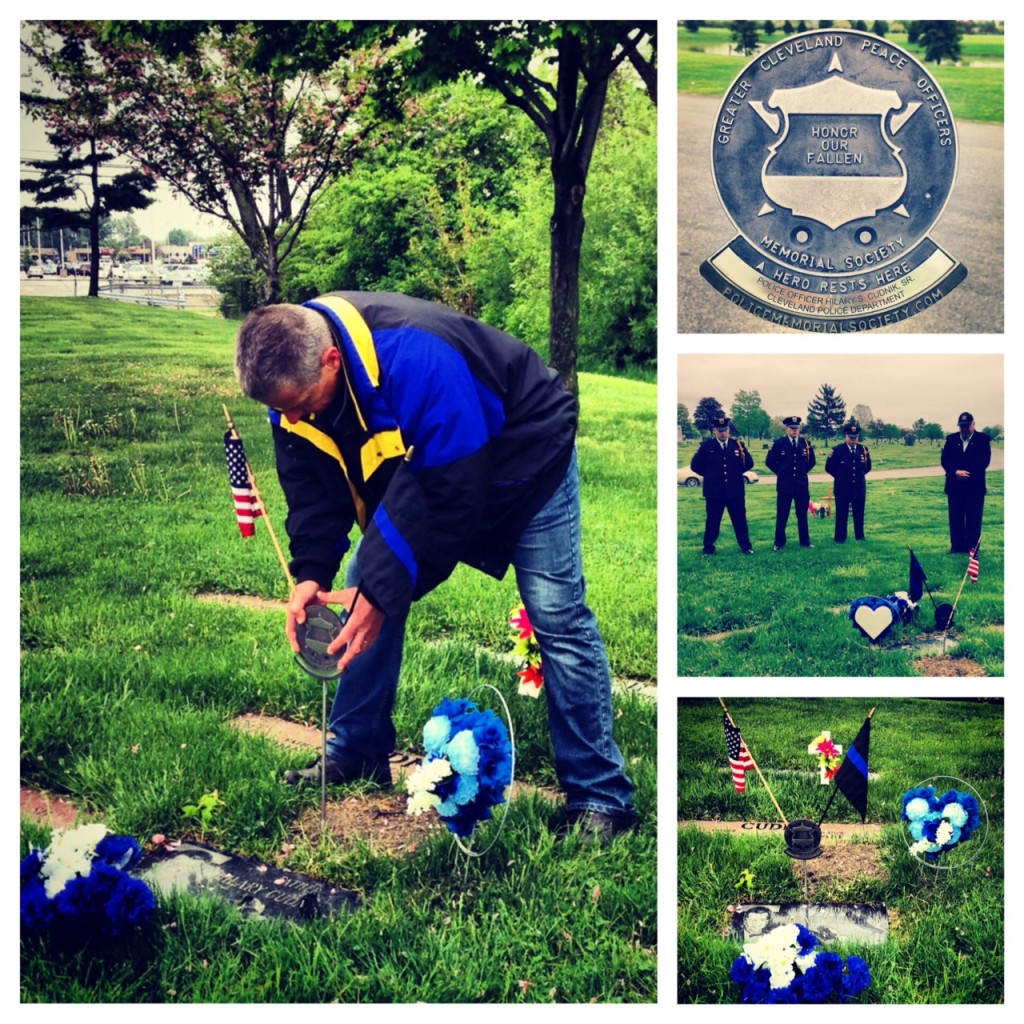 In an effort to pay special tribute to and increase public awareness of the sacrifice made by our fallen heroes, the Greater Cleveland Peace Officers Memorial Society® (GCPOMS) embarked on a campaign to place specially designed markers on the graves of those officers from Cuyahoga, Geauga, Lake, Lorain, Medina and northern Summit counties who have died in the line of duty. Additionally, any law enforcement officer who died in the line of duty while serving with Law Enforcement agencies outside of our area and are buried in our region will also be afforded this honor.
A survey of surviving family members indicated that the overwhelming majority of them favored the idea of having markers placed on their loved one's grave each May during National Police Week, and National Police Memorial Day (May 15th).
A committee comprised of volunteers and surviving family members met and initiated the grave marker project in March of 2011. A drawing of the marker was approved and markers were ordered for placement in May 2012. The marker is similar to those that are placed on the graves of our honored military veterans each Memorial Day and include a U.S. and police memorial flag.
Designing the marker was the easy part. Locating the cemeteries and grave locations of the 180 officers who are inscribed on the Greater Cleveland Peace Officers Memorial proved to be more challenging. Dating back to December 1, 1853 when Watchman John Osborne of the Cleveland City Marshal's Office was the first officer to fall, volunteers became detectives in their own right…searching numerous records sources and visiting cemeteries in order to complete this segment of the project.
By December 2011, all of the cemeteries for the officers had been identified, as well as the grave locations. Site visits to the graves were conducted in order to ascertain if there was a legible headstone and to chart the location for placement of the markers.
On May 12, 2012, the first placement ceremony took place as volunteers gathered at the memorial in Cleveland. After the ceremony the group dispersed to their assigned cemeteries to place the markers on the graves of our fallen officers. The markers remained through the conclusion of the GCPOMS's 27th Annual Police Memorial Commemoration and all were successfully retrieved and have been placed in storage for use each year.
A fund raising campaign was conducted to finance the project and has been very successful. Sponsorship opportunities exist for the grave markers with the names of the sponsors listed on our website along with the stories of the officers who died in the line of duty.
If you prefer to mail in your payment, download the Grave Marker Sponsorship Order Form, complete it and mail to us with your credit card or check payment.