Greater Cleveland Peace Officers Memorial Society®
Sunday, May 14: GCPOMS Private Event at Progressive Field
Sunday, May 14, 2023, join us at Progressive Field for the Guardians v Los Angeles Angels. Enjoy a food buffet, beverages and cash bar in the Terrace Club. Lower Box or Upper Bleacher seats available. Ea. ticket enters your name into a raffle to hold the O-H-I-O signs during the game! See flyer for more info.
Flyer and More Information
Purchase Online (use code GCPOMS)
Book your room now for the 2023 May Commemoration!
Don't get left out! Booking due date is April 26, 2023. The group's special rate is applicable from May 16-22, 2023. Here are the details.
Cleveland Police Collectors Show - May 20
The Greater Cleveland Peace Officers Memorial Society® is proud to present the Police Collectors Show.
Join us Saturday, May 20, 2023 from 10 a.m.-3 p.m. at the Double Tree Hotel, 1111 Lakeside. All are welcome, free admission, with patches badges coins & more! Discount code for Doubletree for this event is "POM." Rate is $129/night.
Put your order in now for GCPOMS merchandise!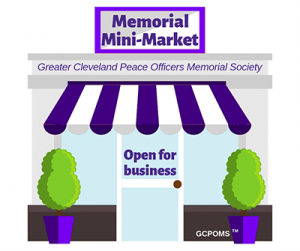 We invite you to shop our online products. With your purchase, you are supporting the operation of this organization whose purpose is to honor fallen officers. This website features selected memorial merchandise. All memorial merchandise will be available at certain GCPOMS Merchandise Sales.
In Memoriam - We will never forget!
New Benefit for Members
Through a partnership with American Income Life Insurance Company, an AD&D benefit and other no-cost offers are being provided to all members of Greater Cleveland Peace Officers Memorial Society.
Watch the Virtual Commemoration
Hello friends -
We invite you to watch this video of our commemoration ceremony from Friday, May 15 at 9 a.m., when the Greater Cleveland Peace Officers Memorial Society read the names of fallen officers. Every year during Police Week the Society holds a ceremony at the Memorial to honor the memory of those officers who have lost their lives in the line of duty.
Keeping The Promise... to never forget our fallen heroes.®
Honoring the service of fallen peace officers, ensuring that they are never forgotten and providing assistance and emotional support to their families. We serve Cuyahoga, Lake, Lorain, Geauga, Medina and Northern Summit counties.
=