Greater Cleveland Peace Officers Memorial Society™
A Big THANK YOU!!!
We would like to thank everyone for making our 34th Peace Officers Memorial week a great success. And remember to keep the date for next years memorial and tattoo when we celebrate Police Week in Cleveland May 11-16, 2020!
Shop for GCPOMS Merchandise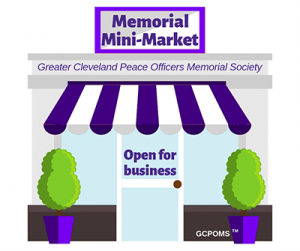 We invite you to shop our online products. With your purchase, you are supporting the operation of this organization whose purpose is to honor fallen officers. This website features selected memorial merchandise. All memorial merchandise will be available at certain GCPOMS Merchandise Sales. Specific dates and locations here.
June 30: Cops Ride to Honor Four of Ohio's Fallen Officers

On Sunday June 30, 2019, the 11th Annual Cops Ride ceremony will be held at 10:30 a.m. at the Greater Cleveland Peace Officers Memorial located at the corner of West 3rd and Lakeside, with Monica Robins of WKYC as the Master of Ceremonies. The ceremony is open to the public and will honor and remember our nation's one hundred and sixty-three fallen law enforcement officers from 2018.
May-June 2019 GCPOMS Newsletter - "The Epitaph"
Message from the President
Survivors' Corner
Badges of Courage
In Memoriam
Keeping The Promise... to never forget our fallen heroes.™
Honoring the service of fallen peace officers, ensuring that they are never forgotten and providing assistance and emotional support to their families. We serve Cuyahoga, Lake, Lorain, Geauga, Medina and Northern Summit counties.