Greater Cleveland Peace Officers Memorial Society®
Put your order in now for GCPOMS merchandise!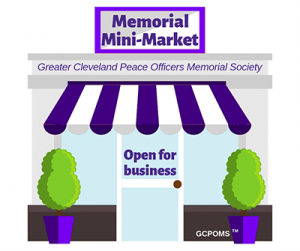 We invite you to shop our online products. With your purchase, you are supporting the operation of this organization whose purpose is to honor fallen officers. This website features selected memorial merchandise. All memorial merchandise will be available at certain GCPOMS Merchandise Sales.
Looking for a way to show your support of law enforcement? Back the Blue! Thanks to Engage Virtual Range for their support! Your pledge will be multiplied by the final count of competition participants. Info and registration...
Join Pipes & Drums in celebrating their 25th Anniversary! Tickets include hors d'oeuvres, dinner, dessert, soft drinks and entertainment. Info...
Who is up for a little friendly competition? Engage Virtual Range is hosting their second annual Blue Line Competition for law enforcement agencies in Northeast Ohio. Join us for a full day of competition as we show our appreciation for local area law enforcement and get the chance to see exactly what each team is made of! This year's competition benefits the Greater Cleveland Peace Officers Memorial Society. Info...
Message from the President
Survivor's Corner
Badges of Courage: Heroes Among Us
Watch the Virtual Commemoration
Hello friends -
We invite you to watch this video of our commemoration ceremony from Friday, May 15 at 9 a.m., when the Greater Cleveland Peace Officers Memorial Society read the names of fallen officers. Every year during Police Week the Society holds a ceremony at the Memorial to honor the memory of those officers who have lost their lives in the line of duty.
Keeping The Promise... to never forget our fallen heroes.®
Honoring the service of fallen peace officers, ensuring that they are never forgotten and providing assistance and emotional support to their families. We serve Cuyahoga, Lake, Lorain, Geauga, Medina and Northern Summit counties.