Greater Cleveland Peace Officers Memorial Society®
Put your order in now for GCPOMS merchandise!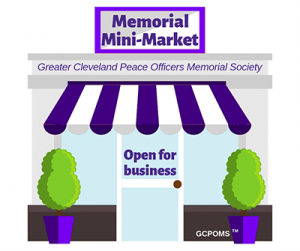 We invite you to shop our online products. With your purchase, you are supporting the operation of this organization whose purpose is to honor fallen officers. This website features selected memorial merchandise. All memorial merchandise will be available at certain GCPOMS Merchandise Sales.
This is not your typical raffle... the last Reverse Raffle ticket drawn wins the $3,000 grand prize! Reverse Raffle tickets also win cash and prizes throughout the evening and there will be additional games and mini-contests for chances to win sponsored prizes. Join us at the Woodside Event Center in Broadview Heights for this dinner and raffle event. See the flyer for more info.
Congratulations, Winners! (EVR)
Congratulations to the Avon Lake Police Department for winning this year's EVR Blue Line competition. 124 officers from 21 departments competed this year. Congratulations to Bay Village PD Officer Greg E. for taking top individual spot. Thanks to Chad Wilson and staff from Engage Virtual Range for organizing such a great event. Thank you to all participants and sponsors.
Message from the President
Survivor's Corner: Doris J. Robertson, Daughter of Patrolman Garner M. Robertson (EOW 7/8/1956)
Badges of Courage: Patrolman Garner M. Robertson
Watch the Virtual Commemoration
Hello friends -
We invite you to watch this video of our commemoration ceremony from Friday, May 15 at 9 a.m., when the Greater Cleveland Peace Officers Memorial Society read the names of fallen officers. Every year during Police Week the Society holds a ceremony at the Memorial to honor the memory of those officers who have lost their lives in the line of duty.
Keeping The Promise... to never forget our fallen heroes.®
Honoring the service of fallen peace officers, ensuring that they are never forgotten and providing assistance and emotional support to their families. We serve Cuyahoga, Lake, Lorain, Geauga, Medina and Northern Summit counties.