Greater Cleveland Peace Officers Memorial Society®
Put your order in now for GCPOMS merchandise!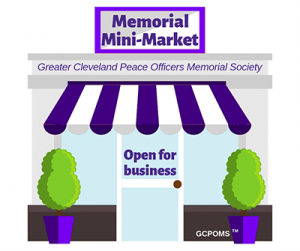 We invite you to shop our online products. With your purchase, you are supporting the operation of this organization whose purpose is to honor fallen officers. This website features selected memorial merchandise. All memorial merchandise will be available at certain GCPOMS Merchandise Sales.
Remembering Detective James Skernivitz, EOW Sept. 3, 2020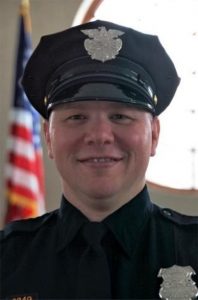 It is with great sadness that we lose one of Cleveland's finest, Detective James Skernivitz. The Mass of Christian Burial is Friday, September 11 at The Cathedral of St. John the Evangelist, 1007 Superior Ave., Cleveland at 10 a.m.
Family is receiving friends at A. Ripepi and Sons Funeral Home (18149 Bagley Rd., Middleburg Heights) Thursday, September 10 from 2-8 p.m. Please wear masks and maintain social distancing.
In lieu of flowers, contributions to the family in support of Detective Skernivitz's children's education would be appreciated.
Watch the Virtual Commemoration
Hello friends -
We invite you to watch this video of our commemoration ceremony from Friday, May 15 at 9 a.m., when the Greater Cleveland Peace Officers Memorial Society read the names of fallen officers. Every year during Police Week the Society holds a ceremony at the Memorial to honor the memory of those officers who have lost their lives in the line of duty.
Message from the President
In Memoriam
Badges of Courage
2020 Tattoo and Police Week Events Canceled
Due to the current COVID-19 pandemic, The Greater Cleveland Peace Officers Memorial Society® Board of Directors has decided to cancel the events of Peace Officers Memorial Week and the Cleveland International Tattoo scheduled for May 15 and 16, 2020. This was a difficult decision, but the Board felt it was necessary to protect the health of all participants and to comply with all directives and guidelines of governmental and health agencies. We want everyone to stay safe and healthy. This is a challenging time in our lives, but we will get through this together.
GCPOMS will still place a wreath at the GCPOMS Memorial, as well as placing markers at the grave sites of each of Our Fallen Heroes. Blue lights will be placed at the Memorial during Peace Officers Memorial Week. Please remember our Fallen by lighting your blue light bulbs from last year during Police Week. "Keeping the Promise to Never Forget Our Fallen Heroes."
Your continued support is important to GCPOMS and is greatly appreciated.
As a reminder, if you have made reservations at the Downtown Double Tree Hotel, remember to cancel them at this time by calling the hotel at 216-241-5100.
Keeping The Promise... to never forget our fallen heroes.®
Honoring the service of fallen peace officers, ensuring that they are never forgotten and providing assistance and emotional support to their families. We serve Cuyahoga, Lake, Lorain, Geauga, Medina and Northern Summit counties.