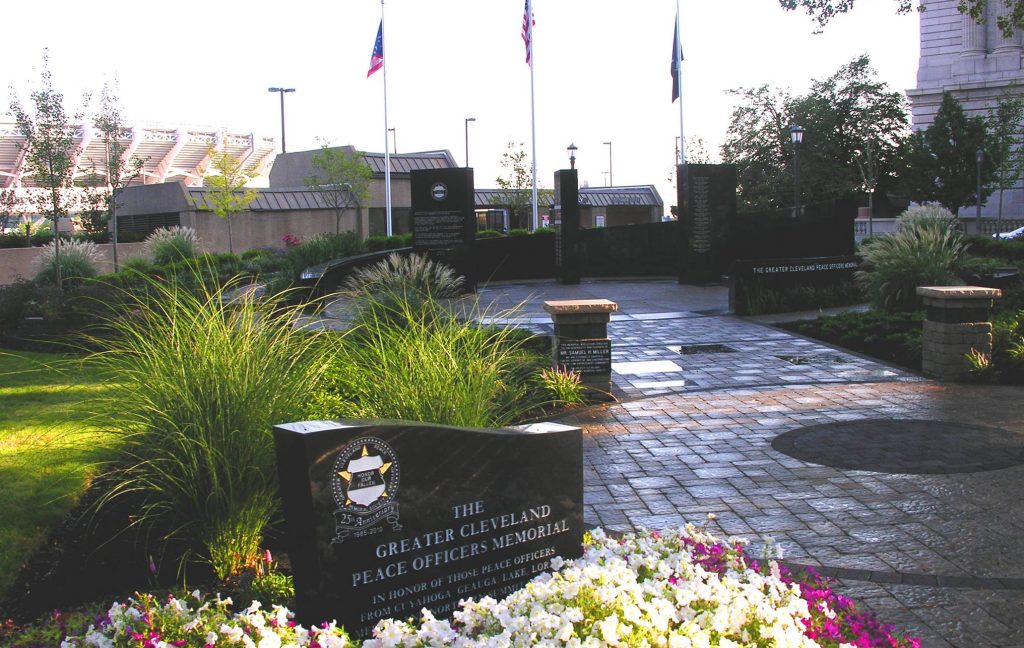 The Greater Cleveland Peace Officers Memorial Society® serves Cuyahoga, Lake, Geauga, Northern Summit, Medina and Lorain counties. Police Officers put their lives on the line each time they are dispatched to a call of a crime in progress. You may also be aware that many Officers have made the ultimate sacrifice while responding to a bank robbery, or domestic violance call, giving their lives while protecting our citizens.
Those officers are forever remembered at The Greater Cleveland Peace Officers Memorial, located on Lakeside Avenue (Police Memorial Way) and W. 3rd across from the Justice Center in Downtown Cleveland… their names etched in stone for all time. The Memorial, dedicated in 1993, is a tribute to those officers who have given their lives in the line of duty.
The Greater Cleveland Peace Officers Memorial Society® began with the donations of many corporations, banks, financial institutions and individuals from the Greater Cleveland area. Now we are in need to raise money to expand the memorial and add officers not yet listed on the memorial, but who died in the line of duty. Two additional pillars will be added in order to create the space to include these fallen heroes, and will allow space for those who we know will  need to be added for police fatalities in the future.
We neeed to raise $200,000 to upgrade the Memorial and add the names of those officers. We are appealing to you to contribute generously to the expansion.
This past year we honored Trooper Kenneth Velez, Ohio State Highway Patrol and Patrol Officer David J. Fahey Jr, Cleveland Division of Police. Both were killed by impaired drivers.
Please make a donation that takes into consideration the risks of the officers who protect you each day.
If you would like to discuss this with a member of The Greater Cleveland Peace Officers Memorial Society®, please contact Joe Mannion, President, 216.337.3537 and he will arrange for a face-to-face meeting to discuss the needs of the police memorial and how your donation will help us reach our goal.
Donate Now