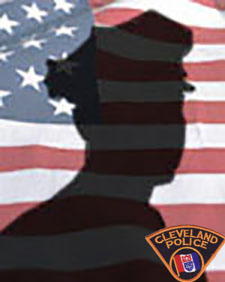 END OF WATCH: September 29, 1917
Cleveland Police Department
It was another rainy day in Cleveland as showers fell all that week. Police Cadet William Brown was patrolling the downtown area that day when called to the Mannual Strauss Cafe across from the new court house. The manager, Lester Strauss said a man was annoying a woman and flashed a gun when he was told to get out.
Upon arrival, Officer Brown saw a man running. The officer ordered the man to halt and was met with a hail of bullets. Several shots struck Officer Brown in the right side and Brown returned fire striking the suspect in the right hip and left shoulder.
Officer Brown was hurried to Huron Road Hospital weak from losing blood. His brother, bicycle patrolman Frank Brown heard the news and was ready to submit a blood transfusion to save his brother's life. The next day a second blood transfusion was needed and brother Theodore Brown, also a police officer, was at the hospital prepared to give blood if needed. Hospital surgeons decided to amputate Officer Brown's leg in order to preserve his life and following the operation, Officer William Brown remained unconscious and died September 29, 1917.
Offender, 27 year old Joseph Wylie of 2233 Ontario Street entered a plea of guilty to second-degree murder and was sentenced to life imprisonment in the Ohio State Penitentiary.
Cadet William Brown was appointed to the Cleveland Police Department in February, 1917. He lived at 373 Rudyard Road and left behind his wife Margaret and daughter Dorothy, and three sons from a previous marriage. The funeral was held at St. Paul's Church in Nottingham. His brother Frank had been on the force for eight years and Theodore had been a patrolman for four years.
William Brown's name is inscribed on the National Law Enforcement Officers Memorial Wall, Washington, D.C. panel 28, west wall, line 10.
By Recruit G. Garcia, Cleveland Police Dept.