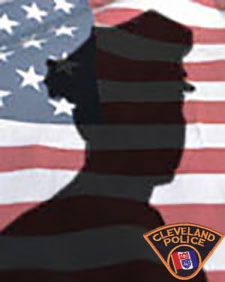 END OF WATCH: August 9, 1932
Cleveland Police Department
Age: 44
John Buettner was appointed to the Cleveland Police Department on November 1, 1913 and became a detective on June 1, 1924. He lived at 6000 Grayton Road in Brook Park, Ohio, with his wife, Adelaide and two children, Adelaide and Gerard.
On August 6, 1932, Detective John Buettner and his partner Detective Herbert Wachsman, were touring their zone when they received a radio broadcast about a robbery of Goodman's Fruit Store. The broadcast advised two men robbed Isadore Goodman at gun-point and stole two hundred eighty-five dollars from the safe. The robbery occurred at approximately 11:35 pm and the suspects were described as a white male and the other, first thought to be a Mexican, a Negro.
Shortly after midnight, while patrolling along E 79th St and Superior, Buettner and Wachsman came across two men. one of the men matched the description of one of the robbers. Wachsman, stopped the car and Buettner stepped out and called "Wait a minute." to the suspect. Buettner was no more than six feet away when the suspect, William Enzulus shot point blank at Buettner.
Detective Buettner groaned "He got me in the stomach, Herb," as he slumped to the sidewalk. The gunman fled toward Superior Avenue and Wachsman, with revolver drawn, jumped over his partner and pursued the shooter. Due to pedestrians in the way Wachsman could not fire immediately but once they cleared them, he shot four rounds at Enzulus. Enzulus grabbed his right shoulder indicating he was hit and Wachsman stopped his pursuit and returned to transport Buettner to Mt. Sinai Hospital.
Buettner was near death when a call for blood was sent out over the air. Sgt. Harvey Weltzel of the Third Precinct volunteered and a pint of blood was transfused to Buettner at 7:00 am and he began to rally.
Meanwhile, an all out search was on for the gunman. To flee, Enzulus held up Fred Barrowdale for his money and car and fled the area. The stolen car was abandoned and found later by Sgt. Henson. Officers observed blood spatter on the right side of the front seat. Enzulus was seen going into 5000 McBride and police captured him he tried escaping through a first floor window. Enzulus was transported to the Central Police Station where he was identified by the robbery victims and finally admitted shooting Detective Buettner.
Buettner was in serious condition at Mt. Sinai Hospital with his wife and family at his side. He remained in serious condition for the next three days until 3:34 am, August 9, 1932, when he succumbed to his injuries.
Services were held at St. Patrick's Catholic Church at Rocky River Drive and Puritas Springs Road.
Detective John Buetnner was the forty-third Cleveland Police Officer slain in the line of duty. His name is mounted on a plaque in the Cleveland Police Museum accompanying all other officers killed in the line of duty.
John Buettner's name is inscribed on the National Law Enforcement Officers Memorial Wall, Washington, D.C. panel 37, west wall, line 6.
By Recruit Donald Wellinger, Cleveland Police Academy