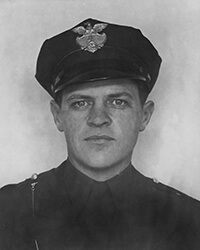 Cuyahoga Falls Police Department
End of Watch, Friday, May 30, 1947
Patrolman Chance was pursuing a speeding motorist on his motorcycle when he was struck by cross traffic at the intersection of Oakwood Drive and Front Street. At the time of his death he had served the City of Cuyahoga Falls for 4 years. He is survived by his daughter Linda Chance Johnston who resides in California and was not able to be with us today.