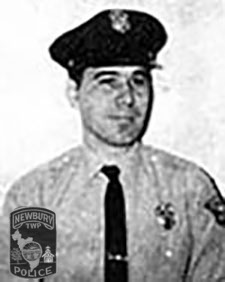 END OF WATCH:  January 1, 1972
Newbury Police Department
Age: 30
Deputy Sheriffs of Geauga County reported that Chief Chihil was driving east on Ohio 87 on his way to aid Burton Police chasing a speeder when his car smashed head-on into another vehicle driving on the wrong side of the road. The accident took place in front of St. Helen's Catholic Church.
Chief Chihil was a part-time police chief and constable for the Township. He worked full-time as a security guard for White Motor Company.
Chief Michael Chihil was survived by his wife Lois and daughters, Debbie, 7, and Pam, 5. Services were held at St. Helen's Church.
Michael Chihil's name is inscribed on the National Law Enforcement Officers Memorial Wall, Washington, D.C. panel 14, east wall, line 11.
By: Norm Drew, Greater Cleveland Peace Officers Memorial Society