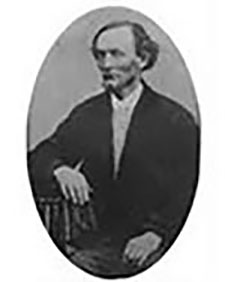 END OF WATCH: November 11, 1905
Rochester Village, Lorain County
Age: 68
Born in Pittsfield Township, Ohio on October 12, 1837, Crapo was orphaned as a small boy. He later called Rochester Ohio, home. Rochester is a small village in the south west corner of Lorain County, Ohio. It is here that he spent the majority of his 68-year life, with the exception of 20 years when he resided in Charlotte, Michigan.
Crapo was a veteran of the U.S. Army, serving 4 years and 19 days beginning on August 3, 1861. He was known to be a comrade of General George Custer during the Civil War. He was Sexton of the Baptist church, the president of the local school board, a member of the Hamlin Post and Company H 2nd Ohio Cavalry. Following the U.S. Civil War, train hopping became a common means of transportation as the railroads began pushing westward, especially among migrant workers.
Additional hazards included being jostled off the train at high speeds, or being attacked by other train hoppers, who were ex-cons, and violence was not uncommon among the transient population.
On the evening of Saturday, November 11, 1905, at 8:00 PM, Crapo age 68 was performing his duties in the rail yard, chasing some kids who were trying to jump a boxcar. He was often found giving his full attention to this area of enforcement. During the foot chase, he stepped out on the next track. Partially deaf, he was struck by a train, approaching from the opposite direction. He died instantly.
Marshal Spooner C. Crapo was survived by his wife Elizabeth, two sons, one daughter, five granddaughters, and one great-granddaughter.
He was buried in Station Cemetery in Rochester, Ohio.
By: Det. Al Leiby, Elyria PD (retired)