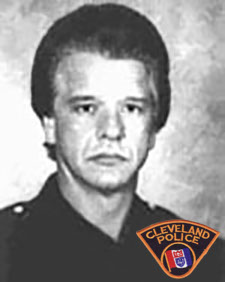 END OF WATCH: December 30, 1996
Cleveland Police Department
Badge #1939
On December 30, 1996 at 2:00 a.m., while most of us were fast asleep in our beds, Cleveland Police Patrol Officer Hilary Cudnik found himself in the middle of every police officers' nightmare.
Officer Cudnik and his partner, Officer Frank Costanzo chased a car with license plates that had been reported stolen from the corner of East 77th and Carnegie Avenue. The suspect's auto failed to negotiate a turn at that intersection and ended up on the sidewalk against a building.
The suspect, a 37 year old convicted felon and drug abuser exited the stolen auto armed with a M-14 semi-automatic rifle and 30 round magazine, opened fire.
"There is no safe place, no place to find cover against a weapon like this. It would go through a bullet proof vest like a hot knife through butter," said Homicide Detectives and A.T.F. Agents.
Officer Hilary Cudnik was hit six times including a fatal wound to the chest. He was rushed to Mt. Sinai Hospital by a Zone Car and was pronounced dead at 2:33 a.m.
The suspect received several wounds in the ensuing gun battle at the scene but survived.
Hilary's friends all knew "he loved being a cop". Shop owners in the area respected Hilary as a "good cop". His friends and co-workers called him hard working and dedicated.
The police chaplain at Hilary's funeral said that you can measure the wealth of a man by the number of his friends, and, by that measure, Hilary Cudnik was a millionaire.
Loosing a Police Officer like Hilary Cudnik has drawn on the wealth of those he leaves behind.
Hilary Cudnik's name is inscribed on the National Law Enforcement Officers Memorial Wall in Washington D.C. Panel 55, W-20.
By: P.O. Tom Armelli, Cleveland Police Department