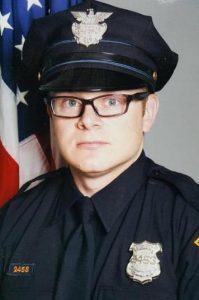 END OF WATCH:  January 24, 2017
Cleveland Division of Police
Age 39
On Tuesday, January 24, 2017 at 0600 hours, the City of Cleveland lost a great public servant, Officer David J. Fahey Jr.
While assigned to the First Neighborhood Police District, he and his partner were dispatched to assist another agency investigating a fatal motor vehicle accident on Interstate 90. Fahey was in the process of redirecting traffic with road flares when he was struck and killed by a hit and run driver.
David was born in Cleveland, Ohio on March 26, 1977, spending his childhood years in Cleveland's Westpark neighborhood. After graduating from St. Edward High School in 1995, he enlisted in the United States Navy and served aboard the USS George Washington as an Aviation Boatswain's Mate, completing two Mediterranean tours of duty.
After being honorably discharged, David worked in the private sector while completing his certification as an Emergency Medical Technician.
On July 7, 2014, he followed in the footsteps of his mother and step-father, Jackie and Mark Ketterer, brother Christopher Porter, and cousin Barry Bentley and began his career with the Cleveland Division of Police as a member of the 133rd Academy class. David was issued badge number 2453, which had previously been worn by his step-father when he was a patrol officer. Upon graduation from the academy he was assigned to the First District.
PO David J. Fahey, Jr. had a remarkable conviction for his job as a police officer and its invaluable purpose in society.He loved his city and was honored to be a "Brother in Blue." Having a passion for all things electronic, he derived great pleasure in enabling friends and family to enrich their lives through his knowledge of the electronic age.
In addition to his mother Jackie and his brother Christopher, David was also the proud older brother of John and Jeffrey Porter, awesome uncle to Owen and Liam Porter, loving grandson to Patricia Fahey, Edwin Richards, Bill and Diane Ketterer, step-son to John and Chrissy Porter, and loving son of the late David J. Fahey Sr.
He will always be remembered for his smile, quick wit, love of friends and family, and "Guinness" his beloved K-9.