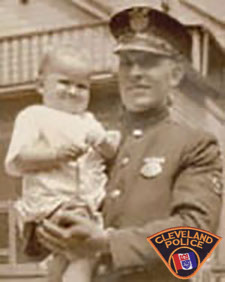 END OF WATCH: March 22, 1928
Cleveland Police Department
On March 22, 1928, Patrol Officer Albert Flemke of the Motorcycle Unit reported for duty at 2300 hours.
On that particular day, Officer Flemke was assigned to traffic duty. While heading westbound on Woodland Avenue, nearing the 6100 block, a Cadillac driven by Fletcher Sharp, traveling north on East 61st Street failed to stop for an emergency vehicle and collided with Flemke's motorcycle. Officer Flemke sustained a fractured skull and a broken right leg and was pronounced dead on arrival at St. Luke's Hospital. The driver, Fletcher Sharp was arrested and charged with manslaughter.
Albert Flemke left behind a loving family consisting of his wife Martha, son Robert, and mother, Mathilda Reinheimer.
Albert Flemke's name is inscribed on the National Law Enforcement Officers Memorial Wall, Washington, D.C. panel 43, west wall, line 10.
By Recruit Robert Frost, Cleveland Police Academy