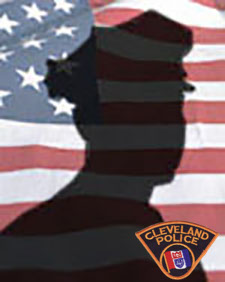 END OF WATCH: February 13, 1925
Cleveland Police Department
On November 30, 1923, Patrolman Fromm was shot and seriously wounded at 12:05 a.m. at the corner of Central Avenue & E. 30th Street. Officer Fromm later died on February 13, 1925, from complications due to his wounds.
Patrolman Fromm sustained a cut on his hand while arresting Louis Enis, an intoxicated man running amuck and wielding an open knife. Marion Pierce, a companion, attempted to obstruct the officer and prevent his friend's arrest. In the ensuing battle with the prisoners, the patrolman was felled with his own mace which had been wrested from his injured hand. While Fromm was prostrated by the blow, Pierce seized the patrolman's revolver from his pocket and fired several shots at him. One bullet lodged in the groin. Both prisoners, whose identities were not known at this time, made their escape.
Two days later, they were arrested and charged with shooting to kill. Enis was also charged with cutting to wound. Both were convicted with Pierce being sentenced to ten years and Enis to an indeterminate term at the Ohio State Reformatory at Mansfield.
Because more than a year and a day had elapsed from the time of the shooting of Patrolmen Fromm and his death, the charge of murder could not be made under the Laws of the State. The penalty could not be increased either.
Peter Fromm, son of John & Fredericka and husband of the late Hattie (nee Ogilvie), passed away on Friday, February 13, 1925. His funeral was held on Tuesday, February 17, 1925. Short services were held at Harry T. Maher's Mortuary, 12016 Woodland Avenue at 10:00 am. Services were held at Disciple Church in Perry, Ohio, with interment in Perry.
Peter Fromm's name is inscribed on the National Law Enforcement Officers Memorial Wall, Washington, D.C. panel 51, west wall, line 9.
By Recruit Tom Roth, Cleveland Police Academy