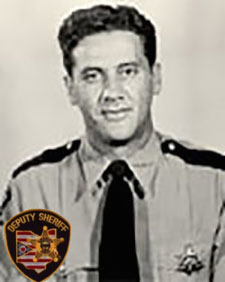 END OF WATCH:  January 9, 1961
Lorain County Sheriff's Office
Age: 41
On Tuesday, January 3, 1961, deputies were towing a cruiser with another by tow chain. When the towed car started, Deputy George got out to unhook the chain. As he did so, an approaching vehicle struck the rear car and pinned Deputy George between the two cruisers. Deputy George sustained critical internal injuries and was transported to the Elyria Memorial Hospital where he succumbed to his injuries several days later on Monday, January 9, 1961.
Deputy George was born in Elyria and resided there most of his life. He was the owner of the Flash Car Wash and was also the Vice-President of the Lorain Chapter of Aid to Leukemia Stricken American Children.
Michael George was survived by his wife Wilma, son Dennis, mother, three brothers,
and three sisters.
Michael J. George's name is inscribed on the National Law Enforcement Officers Memorial Wall, Washington, D.C. panel 53, west wall, line 3.
By Norm Drew, Greater Cleveland Peace Officers Memorial Society