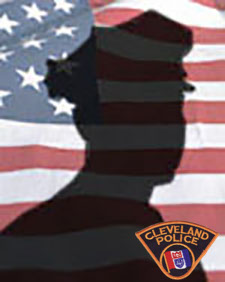 END OF WATCH: May 6, 1916
Cleveland Police Department
Sergeant Charles H. Goetz was appointed to the Cleveland Police Department on January 1, 1899. On March 1, 1913, he was promoted to Sergeant. On Saturday, May 6, 1916, at 1:05 a.m. Sgt. Goetz was killed in the line of duty when he was struck by a car. Goetz lived with his family at 1612 Castle Avenue, Cleveland and was the 13th Cleveland Policeman killed in the line of duty.
The accident occurred on West 25th Street between Daisy and Library Streets. Records from the May 9, 1916 Cuyahoga County Coroner's Inquest indicate the following chain of events which led to the death of Sgt. Goetz: at approximately 1:05 am, on May 6, 1916, two cars, both with their bright lights on, were headed northbound side by side on West 25th Street. Witnesses indicated that it appeared as though the cars were racing. Apparently another police officer, Patrolman Isaac, yelled at the drivers of the two cars further down the street as they passed by him. This apparently alerted Goetz to the problem. Goetz, who was on the west side of the street, stepped out into the street to approach the two oncoming cars. In his haste to handle this problem, Goetz did not see a car approaching southbound. When Goetz stepped into the street, he was struck from behind by the oncoming southbound car.
The car that struck Sgt. Goetz was operated by a James Doyle of Marvin Avenue. Charles Dempsey was a passenger in the same auto. Doyle and Dempsey tried to get Goetz into their car to take him to the hospital but the car doors were jammed. Another auto passing by stopped to help. Doyle and Dempsey helped get Goetz into the assisting car. He was driven to City Hospital where he later died of his injuries.
According to Doyle and Dempsey, they did not see Sgt. Goetz until he was struck by their auto. Both Doyle and Dempsey stated that they felt the bright lights on the two oncoming cars played a roll in their inability to see Goetz stepping out into the street in front of them.
As a result of Coroner P. J. Byrnes' inquest, James Doyle, was exonerated, and the death of Sgt. Goetz was ruled accidental, killed in the line of duty.
Sergeant Charles H. Goetz was buried on May 8, 1916, in a family plot at the Scranton Road Cemetery located on Scranton Road and Wade Avenue approximately one mile from the scene of the accident.
He was survived by his wife, Bertha M. and two daughters, Ruth and Josephine, ages 9 and 5 at the time of their father's death. (Accounts taken from Cleveland Cemetery records and Cuyahoga County Coroner's records.)
Charles H. Goetz's name is inscribed on the National Law Enforcement Officers Memorial Wall, Washington, D.C. panel 53, west wall, line 16.
By Lt. Edward F. Lewis, Bay Village Police Dept.