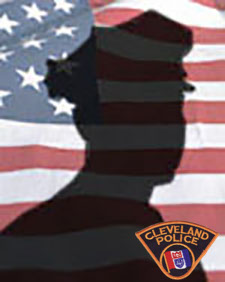 END OF WATCH: May 4, 1942
Cleveland Police Department
Age: 42
Officer Goodwin was appointed to the Cleveland Police Department on December 6, 1926, and was assigned to the motorcycle unit.
On April 30, 1942, at 6:10 pm while on duty at Cleveland's War Bond Parade Officer Goodwin was riding eastbound on Euclid Avenue near East 100th Street when he attempted to pass another motorcycle operated by Mr. Edward Waldman. Waldman was a volunteer helping to form the parade at University Circle. As Goodwin neared Waldman's motorcycle, Waldman struck the rear wheel of Goodwin's bike causing him to swerve into the path of an oncoming automobile.
Goodwin was rushed to Lakeside Hospital with serious injuries and on May 4, 1942, Officer Goodwin died.
Funeral services were held at the Melbourne Funeral Home, 12737 Euclid Avenue with burial in Knollwood Cemetery. Patrolman James Goodwin leaves his wife Edna and two daughters, Jean and Pauline.
James Goodwin's name is inscribed on the National Law Enforcement Officers Memorial Wall, Washington, D.C. panel 46, west wall, line 5.
By Recruit Paul Zagaria, Cleveland Police Academy