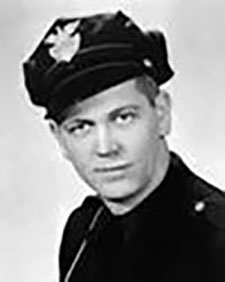 END OF WATCH: December 8, 1951
Cleveland Police Department
Forney L. Haas joined the force in 1934 and was assigned to traffic duty in the vicinity of the Hotel Statler. Also was known as "Whitey", Haas resided on Ralph Avenue with his wife Elizabeth and children, Donald and Nancy.
On December 8, 1951, Patrolman Haas arrested George Ross and was taking him to 8120 Euclid Avenue for identification. Ross claimed he lost his identification and asked Haas to accompany him to the Euclid Avenue address.
Upon arrival, they were met by rooming house owner, Mrs. Lottie Cooper. Mrs. Cooper advised at approximately 1:30 pm Haas and Ross entered the rooming house at which time Haas inquired how long Ross had been rooming there. Ross went upstairs to his room and as Haas followed, he turned to ask another question. Mrs. Cooper advised she heard three shots and Haas fell down the stairway to the first floor landing. Haas was transported to Mt. Sinai Hospital where he was pronounced dead on arrival. Patrolman Haas sustained a gunshot wound to his chest, the top of his head and his left arm.
George Ross was the target of a nation-wide search and was captured in Maryland. He was returned to Cleveland for trial and was sentenced to be executed in March of 1951.
Forney Haas's name is inscribed on the National Law Enforcement Officers Memorial Wall, Washington, D.C. panel 29, west wall, line 8.
By Recruit Dean Graziolli, Cleveland Police Academy