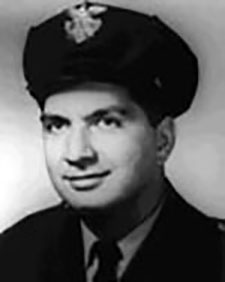 END OF WATCH:  April 3, 1971
Cleveland Police Department
On April 3rd, 1971, Patrolman Hakaim was assigned to the police radio room at 2001 Payne Avenue. At about 1:50 pm, Patrolman Thomas McLaughlin, #373, also assigned to the radio room, apparently went berserk and began firing his .38 caliber service revolver in the direction of Patrolman Hakaim and Sergeant Friedland. After felling both officers, McLaughlin picked up Friedland's service revolver and continued to fire at the two downed officers and at random around the radio room.
McLaughlin then walked into the hallway armed with Friedland's weapon and his own empty weapon in his pocket. As he walked into the Lieutenant's office at the Central Station, he was disarmed and arrested by Lieutenant Stuber and Sergeant Forest Parkey.
Hakaim was pronounced dead at St. Vincent Charity Hospital at 2:20 p.m. Sergeant Friedland sustained five gunshot wounds but survived. McLaughlin was indicted for murder but found to be insane at the time of his crime. He subsequently spent several months in an institution.
Tom Hakaim's name is inscribed on the National Law Enforcement Officers Memorial Wall, Washington, D.C. panel 53, west wall, line 13.
By Det. James T. Farmer, Cleveland Police Dept.