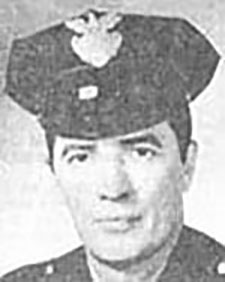 END OF WATCH: October 27, 1987
Cleveland Police Department
Age: 59 | Badge# 401
On Sunday, January 2, 1972, at approximately 6:00 pm, Cleveland Police Officer Ernest Holbert and his partner were dispatched to Buckeye Road and East Boulevard to investigate a routine traffic accident. At the beginning of their investigation, officers placed both drivers involved into the rear of their police vehicle. Nearing completion of the accident report, one driver was permitted to leave. The at-fault driver was arrested for operating a vehicle while under the influence and was issued a citation for the accident. This driver still in the rear seat of the police vehicle stated, "I'm not going to jail," and pulled a gun.
The armed driver fired a shot striking Officer Holbert in the right forehead. His partner, Bobby Bush, sustained gunshot wounds to his chest and right hand but was able to return the gunfire killing the driver.
Officer Holbert was taken to an area hospital where he underwent twelve hours of surgery to remove bullet fragments from his brain. Because of the severe damage caused by the gunshot, Officer Holbert never returned to duty.
In the years following Holbert's head injury, he underwent four major operations in which portions of his brain were removed. His physical and mental condition deteriorated until he died on Tuesday, October 27, 1987.
The history of this incident was presented to and investigated by a committee of high-ranking Cleveland Police Officers. Their findings determined Officer Holbert's continuing health problems were the direct result of the severe head wound he sustained in the line of duty leading to his death. Officer Holbert's badge was retired from active service and placed in the Cleveland Police Badge Memorial.
Ernest Holbert's name is inscribed on the National Law Enforcement Officers Memorial Wall in Washington D.C. Panel 44, E-23.
By: P.O. Rance Holbert, Brother, Cleveland Police Dept., Ret.