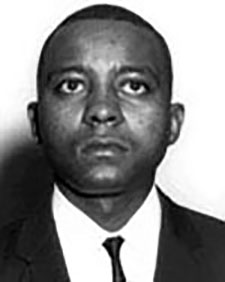 END OF WATCH:  April 2, 1969
Cleveland Police Department
Patrolman Kenneth Houser was appointed to the Cleveland Police Department on September 1, 1967. After graduating from the police academy he was assigned to basic patrol in the Fourth District.
On April 2, 1969, while off duty, Ken Houser stopped in at Cliffs Bar, 9115 Buckeye Road and was shooting pool with owner Cliff Hatchett, Norma Sykes, and Fred Gilbert.
Around 1:00 am, three armed suspects entered the bar and announced, "This is a stickup." In the process of robbing the owner and patrons of the bar, the theives discovered Houser's badge and weapon and immediately shot him and continued shooting him as he fell to the floor. Hatchett was also shot and killed and Sykes and Gilbert were wounded.
Officers Sopka and Carper arrived on scene and obtained suspect descriptions from witnesses. Officers recalled checking out the same subjects just before the bar was robbed. At the time, the subjects checked out and were sent on their way. Officers immediately broadcast the suspects' description and the vehicle license number.
The vehicle was found by a Zone Carat at East 144th Street and Caine Avenue and Allen Pinkney and Michael Jones, both eighteen, were arrested. The two were identified by the witnesses and were charged with the two murders and robbery.
A short time later a male by the name of James Valentine was arrested along with three other males. Valentine was in possession of Houser's gun. The three witnesses came forward and identified Valentine as Houser's killer.
Kenneth Houser's name is inscribed on the National Law Enforcement Officers Memorial Wall, Washington, D.C. panel 43, west wall, line 4.
P.O. Thomas Armelli & Det. James T. Farmer, Cleveland Police Dept.