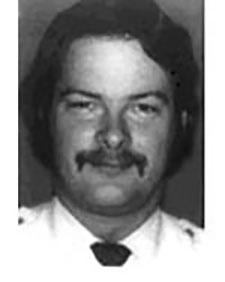 END OF WATCH: June 4, 1979
Cleveland Police Department
On Tuesday, June 4, 1979, Patrolman John Hubbell attended roll call with his partner, Thomas Smyczek. Upon reviewing the roll call materials, they noticed a report on a suspect who was wanted for a robbery that occurred the previous Sunday. Since the suspect lived in their patrol zone, Hubbell and Smyczek agreed they would continuously check for him during their tour of duty.
At 2:00 p.m., the officers spotted the suspect's yellow Chevy Vega in his yard at 7024 Hough Avenue. As they approached the vehicle on foot, officers observed the suspect, Anthony Lemay working on the car in the driveway. Officer Hubbell asked the suspect to identify himself and after confirming the suspect was Anthony Lemay, Hubbell informed him he was under arrest.
Hidden near the bumper of this auto was Anthony Lemay's .38 caliber revolver. Before officers could arrest Lemay, he quickly drew the hidden weapon and fired several rounds at the officers. Officer Hubbell was struck in the back and Officer Smyczek wounded in the abdomen and thigh. Even though both officers were seriously wounded, they were able to return the gunfire.
The two officers and the suspect were taken to Mt. Sinai Hospital where Patrolman Hubbell died about an hour and one half later. The suspect died about two hours later and though seriously wounded, Officer Tom Smyczek survived the shoot-out.
John Hubbell joined the Cleveland Police Department in 1973 after spending six years in the Army. He originally planned on being a Pipe Fitter, like his father but found no one was being hired. He took the police test and scored high so he joined the department. Fellow officers described John as a dedicated policeman who would rather catch a criminal than write traffic tickets.
Patrolman Gerald Wolf says this of his uncle, "What I remember most about my Uncle John was his readiness to help anyone who was in need of assistance. He could never turn his back on anyone who needed his help. On the day of his death, Uncle John drove his brand new motorcycle to work and he was never able to make the trip home."
John Hubbell's name is inscribed on the National Law Enforcement Officers Memorial Wall, Washington, D.C. panel 51, west wall, line 6.
By: Gerald Wolf, Nephew, Cleveland Police Dept.