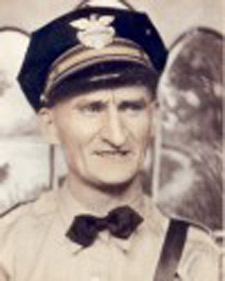 END OF WATCH: March 31, 1939
Solon Police Department
Age: 42
On March 31, 1939 at 3:20 am, Marshal Otto Jirecek of the Solon Police Department, burned to death in his police car.
At 11:00 p.m., Marshal Jirecek and Deputy Charles Linert came on duty. Marshal Jirecek being on call for twenty-four hours stopped the car to get into the back seat. Deputy Linert slid over to relieve Jirecek and started to pull the door shut when their vehicle was fiercely struck from behind. The police car spun, overturned and the gasoline tank exploded, immediately engulfing the vehicle in flames. Linert managed to scramble out of the car before it flipped, escaping with a bloody nose and a wrenched back. He stated, "I tried to get back to the car and pull Otto out, but I could not even get close. The heat was enough to scorch you ten feet away."
The driver of the other car was stunned and his car was badly wrecked. He traveled thirty-five feet before stopping in the middle of Aurora Road near a golf course. After questioning the driver, County Detective Brown estimated his speed was fifty miles per hour. The driver was charged with manslaughter and held for Grand Jury action by Mayor Carter.
Prior to becoming a Marshal, Jirecek worked for the Solon Lumber Company as a concrete block maker. Jirecek was survived by his wife Mary and two children, Robert, 11, and Otto, Jr., 9.
Otto Jirecek's name is inscribed on the National Law Enforcement Officers Memorial Wall, Washington, D.C. panel 46, east wall, line 3.
By Norm Drew, Greater Cleveland Peace Officers Memorial Society