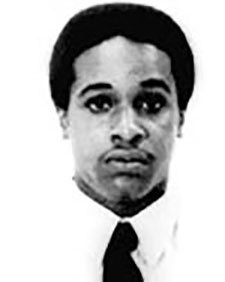 END OF WATCH: October 21, 1981
Cleveland Police Department
Age: 22 | Badge# 2341
My husband, Anthony (Tony) Johnson, Sr. lived his dream of being a police officer for three months. Tony was appointed to the Cleveland Police Department on June 1, 1981. His first day on the street was July 23, 1981. He was very athletic and the fitness part of his training was exciting to him. He would come home, start stretching, asking me to join him, we had a lot of fun. He worked hard preparing to be a good cop during the seven and one-half weeks of basic training.
On October 21, 1981 at 9:36 am, he and his partner, John R. Hyland, responded to a alarm at the National City Bank branch at 16614 Harvard Avenue.
Upon arrival, one of the robbers, Leonard Jenkins came out of the bank shooting. In an exchange of gunfire, Tony was shot in the head with a .357 magnum bullet and suffered multiple skull fractures and Officer Hyland suffered a broken leg. Leonard Jenkins was hit in the chest and spine paralyzing him. Lester Jordan, Jenkin's accomplice was not hurt and was arrested. Tony was transported to Brentwood Hospital where he underwent hours of surgery and was put on life support system. He died that night at 7:46 p.m.
On October 26, 1981, Tony was buried with full police honors, 2,250 mourners, family friends and police from all over the world bid farewell.
The day of Tony's death changed my whole life. Police came to me and said Tony had been hurt and they would take me to the hospital. On the way to the hospital we passed the bank. There is a school next to it, and I thought there was a fight at the school and Tony got hurt there. I asked the officers questions but they would not reply.
When we arrived at the hospital, we entered a room where I thought Tony would be. Instead, my mother, father, baby, and other police officers were there. My mother hugged me. I said, "Mom, what happened?" She told me that Tony had been shot. I asked, "Where?" She said in the head. I asked if he was going to live and she said softly, "No." I remember breaking down and a nurse giving me some water and a pill. When I was allowed to see Tony, he looked swollen and had turned a different color. I held his hand and told him Tony, Jr. and I loved and needed him.
Tony was 22 and I, 20, we just celebrated our first wedding anniversary. Tony, Jr. was just seven and one-half months old. We met in an accounting class in high school
Survivors of Anthony Johnson include Tracy, Tony, Jr., his parents, six brothers, two sisters, and his in-laws, Nathan and Selina Sampson and Crystal.
Leonard Jenkins trial lasted two weeks and he was found guilty of murder with specifications on March 26, 1982. He was sentenced to die in Ohio's electric chair. That did not happen, in January of 1991, then Governor, Richard F. Celeste, commuted Jenkins death sentence to life in prison.
Franklin County Court of Common Pleas subsequently determined the commutation was improperly granted and reinstated Jenkins death sentence, returning him to death row in 1992. However, upon appellate review in 1997, the 1992 decision was overturned and clemency was subsequently re-instated. Leonard Jenkins remains incarcerated at the North Central Correctional Institution in Marion, Ohio. His accomplice, Lester Jordan, was given life in prison.
Life has not been easy. I have spent some time working to pass House Bill 212, that would make a Governor give a member of the victim's immediate family three day's advance notice before releasing a commutation or pardon to the public. Families are owed that respect. Life without Tony is hard. When our son asks about his father, I cry. It hurts me to see that Tony, Jr. never had the chance to grow up with his father around. Tony, Jr. is very smart. His hobbies are basketball and nintendo. His father would be proud of him. I still miss Tony. Many times I want to tell him things and then I realize he is gone. Physically I know he will never be with Tony, Jr. and me but in our hearts he will always love me and he is our hero! Badge 2341 has been retired but not forgotten.
Anthony Johnson's name is inscribed on the National Law Enforcement Officers Memorial Wall, Washington, D.C. panel 51, west wall, line 13.
By: Tracy Johnson, Widow