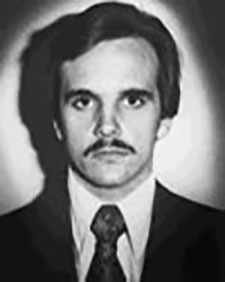 END OF WATCH: March 11, 1984
Cleveland Police Department
Age: 31
On September 3, 1977, Stephen M. Kovach was appointed to the Cleveland Police Department and at the time of his death he was assigned to the Third District. His partner was Patrolman Dave Rutt. Officers Kovach and Rutt were partners for nearly five years.
Prior to becoming a Cleveland Officer, Stephen ran a private security business and also served as a Police Officer in Linndale Ohio for four years.
On March 11, 1984, while working zone car 332, Officers Kovach and Rutt were dispatched to 3722 Longwood Avenue in connection with a hit skip accident.
Officers were unaware the hit-skip driver just committed two violent robberies and was armed and dangerous. The driver, Charles Jackson, Jr. was driving a 1978 Olds Cutlass, stolen during one of the robberies. At the time Kovach and Rutt were dispatched, the robbery victims were still in the process of filing their reports.
At 12:02 a.m., Officers Kovach and Rutt notified radio they were in pursuit of a dark colored Olds Cutlass at East 36th and Cedar Avenue. Jackson, perhaps believing the police had linked him to the robberies, sped and eventually hit a car at East 40th and Cedar.
Patrolman Rutt exited the zone car and began walking toward the Olds when Jackson jumped out and firing a revolver. Rutt was struck in the left side of the chest. The bullet passed through the space between the panels of his bulletproof vest, piercing vital organs. Rutt returned fire, wounding Jackson, as Patrolman Kovach exited to back up Rutt, Jackson shot twice, striking Kovach in the neck. As Jackson fled, Rutt fired four more shots, felling Jackson. Rutt crawled back to the zone car and radioed for help.
Patrolman Kovach died on scene. Patrolman Rutt was taken to St. Vincent Charity Hospital where he was confined in critical condition. The suspect, Charles Jackson, Jr., was pronounced dead.
On Wednesday, March 14, 1984, 1,500 mourners consisting of law enforcement officers, firefighters and friends filled the entire city block of Fulton Road, standing at attention to honor Patrolman Kovach. Over 500 filled the church with others standing outside.
Fulton Road became a parking lot for the funeral cortege following Mass at the Blessed Sacrament Church. Vehicles were lined up three abreast about three quarters of a mile long on Fulton Road from Storer Avenue to Clark Avenue.
Patrolman Kovach was laid to rest at the Holy Cross Cemetery, he was survived by his sister, Diane Chilletz.
On May 19, 1988, Officer Kovach was honored during a special memorial service held at the Justice Center for Cleveland Police Officers killed while serving the city.
Stephen Kovach's name is inscribed on the National Law Enforcement Officers Memorial Wall, Washington, D.C. panel 41, west wall, line 4.
By: Recruit Julie Gill, Cleveland Police Dept.