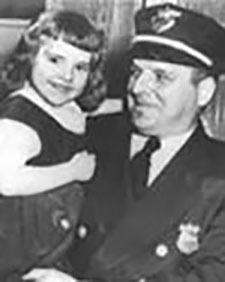 END OF WATCH:  December 9, 1957
Cleveland Police Department
During the early morning hours of December 9, 1957, while on supervisory patrol duty in the Third District, Lieutenant Edward G. Lentz was flagged down by Alonzo Buchanan of 5616 Quimby Avenue. Three men, Dallas Milam, Robert Lyons, and James Wilson Davis invaded the Buchanan's home, stole three guns and $425.00. One of the guns, a .38 caliber Colt revolver was used to kill Lieutenant Lentz.
The three burglars bound Alonzo and Ruth Buchanan with strips torn from bed sheets and left the couple in basement of their home. Alonzo Buchanan freed himself and climbed through a basement window for help. He ran to East 55th Street where he hailed Lieutenant Lentz, who was cruising in a zone car.
Lieutenant Lentz drove Buchanan back to the scene, arriving as the burglars car was pulling away. Lieutenant Lentz sounded his siren and the vehicle pulled over in front of 6210 Quimby Avenue.
Lieutenant Lentz radioed dispatch: "Send a Fifth District car to 6210 Quimby. I have three suspects to check out. Tell them to hurry." Car 531 responded to find Lieutenant Lentz mortally wounded. Two men were running east on Quimby while a third was behind the wheel of the 1950 Cadillac. Two were captured at the scene, and the third fled.
The FBI joined the Cleveland Police in the hunt for the third man. The following day, Car 371 radioed dispatch: "This is Car 371. We've got Davis." The dispatcher from Central Police Station responded, "Car 371, is that James W. Davis?" The officer responded in turn, "That's right. We're bringing him in." For several seconds the radio network buzzed with shouts of "Hurray" from the other squad cars.
A half hour before Lieutenant Lentz was killed, a Cleveland News reporter asked him: "How's it going, Loot?" Lieutenant Lentz responded with a smile, "Pretty quiet, young fellow. I hope it stays that way until I go home." Lieutenant Lentz was popular with both police and reporters. A newspaper article once referred to him as "happy go lucky but with his feet on the ground" and also described him as a "vigorous, two-fisted officer."
Lieutenant Edward G. Lentz was appointed as a Cleveland Police Officer, Badge #14, on October 26, 1926. Prior to police work, he was a Federal government inspector for vessels on the Great Lakes. He also was a graduate of Dyke Spencerian Business School (later Dyke College) and could type in excess of 100 words a minute and took flawless court reporter stenographic dictation.
During his 31 years as a Cleveland Police officer, in addition to special assignments, Lieutenant Lentz served in the Division of Traffic, the Detective Bureau, and in the Third, Fifth and Sixth Districts.
During the reorganization of the Department under Safety Director Eliot Ness, Lieutenant Lentz was assigned to head the Traffic Bureau offices. He was a graduate of the War Department Civilian Protection School at Purdue University, and in 1943 Lieutenant Lentz was assigned as Controller of the Civilian Defense Force Control Center located in the 1lth Precinct (Fifth District). He was in charge of 310 sectors, 18 zones and 1132 air raid wardens during World War II. (He had previously served in the U.S. Army at the time of World War I,)
While in the Traffic Division, Lieutenant Lentz headed a special unit known as the Jeep Patrol and also initiated a program which moved Cleveland from 12th to 1st place in traffic safety among cities with a half million or more in population. The program resulted in reduction of auto insurance rates for residents of the city.
Lieutenant Lentz was the recipient of numerous commendations and awards during his long service in the Cleveland Police Department. Newspaper accounts reinforce that he never refused assistance when summoned. After a motorist gave him the description of a vehicle and its driver following a pedestrian hit-skip, Lieutenant Lentz apprehended the driver who left the pedestrian critically injured in the street. Lieutenant Lentz also arrested a thief who broke into 200 mailboxes and stole money intended for overseas veterans. He was also commended for capturing three burglars on a crime spree by using the process of deduction to determine where the trio would strike next.
As a young patrolman, Lieutenant Lentz leaped from a police car onto the running board of a vehicle whose inebriated driver failed to stop after an accident. The vehicle was traveling at a speed of 25 mph as Lieutenant Lentz forced the driver to stop.
On another occasion, a local newspaper reported that three members of a gang who had been terrorizing the Collinwood area made the mistake of "ganging up" on the husky Lieutenant. As he was speaking to the three, one assaulted Lieutenant Lentz, who withstood the attack of the other two and put all three of them under arrest. Just eight years prior to his death, on a similar occasion at 4:15 a.m., Lieutenant Lentz was alone in his cruiser and sighted three suspects who had committed a series of taxi driver robberies. After hearing a radio dispatch to be on the watch for their vehicle, Lieutenant Lentz saw the speeding car, swung his cruiser around in pursuit, and apprehended them.
In a newspaper article published on December 9, 1957, the day of Lieutenant Lentz's death, Cleveland Police Officer Henry C. Gordon (Badge #384) wrote: ". . if you are a brave policeman, like Eddie Lentz was, you don't turn down a citizen's appeal for help. You go in on it first. Then you think of help for yourself."
At their regular Monday evening meeting on December 9, 1957, Cleveland City Council enacted legislation in the form of a Resolution stating in part that Lieutenant Edward G. Lentz was known as one of the most efficient officers in the Cleveland Police Department and was known for his diligent and relentless pursuit of law violators.  The Resolution further stated that Lieutenant Edward G. Lentz commanded the respect of his subordinates and superior officers alike.  The Resolution further stated that:  "It is fitting and proper that this Council and our entire community pay due tribute to the memory of a truly great police officer who gave up his life for the public safety.  This Council honors the memory of Lieutenant Edward G. Lentz and extends its sympathy to his surviving wife and family."
On the day of Lieutenant Lentz's burial, Louis B. Seltzer, editor of the Cleveland Press who grew up with Eddie Lentz in a close knit neighborhood on the near West Side, wrote in an editorial: "Eddie was tall, angular, strong, shy and wholesome. He was a good friend. If anyone needed help, Eddie was on hand to give it, even if he had to put his own chin in the way to protect someone else … As the years went forward, there were certain of the fellows of the early days who persisted ruggedly in the components of memory and heart … Eddie Lentz was one of these.  Eddie Lentz never changed from boyhood to manhood. He was a boy of courage, and a man of courage. He was a boy of warmth and modesty and a man of warmth and modesty. He was a clean, wholesome boy and a clean, wholesome man. He was a good friend as a boy and a good friend as a man. He was a wonderful boy, a wonderful man, a good and courageous police officer."
Lieutenant Edward G. Lentz was a dedicated police officer and a devoted husband and loving father to his two sons and daughter.  Eddie Lentz married Agnes O'Brien, whom he met while she was a civil service employee in the Cleveland Division of Police where she was a stenographer and administrative assistant to the Assistant Secretary of Police.  Both were graduates of Dyke Spencerian School of Business.  As a father he was strong, but gentle role model with deep inner strength.  His three children would each dedicate their lives to the same principles for which he lived and died.  Lieutenant Lentz's son Edward J. joined the Cleveland Police Department and rose through the ranks to Lieutenant.  He retired from the Cleveland Police Department after 50 years of service.  Lieutenant Lentz's son Martin G. was appointed to the Cleveland Heights Police Department where he rose through the ranks to Chief, a position he held for 36 years prior to his retirement after 51 years with the Cleveland Heights Police Department.  Lieutenant Lentz's daughter Mary Agnes, a former teacher for the Cleveland Public Schools, became an attorney in 1973.   She has served as an Assistant Prosecuting Attorney for Cuyahoga County and a municipal police Prosecutor, and also in private practice.   Six of Lieutenant Lentz's grandsons entered the law enforcement profession.
Lieutenant Edward G. Lentz was very principled, always a gentleman and clearly a man of deep inner strength and convictions.  He was happy with a great sense of humor, gifted and intelligent, never ruffled, never fearful.  He was physically strong and tall in stature.  He was a phenomenal person, a friend extraordinaire, and a courageous police officer.
Edward G. Lentz's name is inscribed on the National Law Enforcement Officers Memorial Wall, Washington, D.C. panel 33, west wall, line 15.
Written by daughter Mary A. Lentz, Esq.