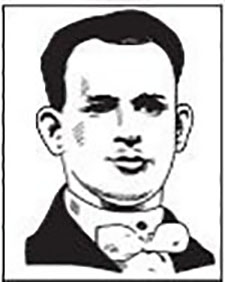 END OF WATCH: February 19, 1923
Federal Prohibition Enforcement Officer
Age: 34
Federal Prohibition Agents –"revenuers" – came into prominence in 1919 with the passage of the Eighteenth Amendment to the Constitution and the Volstead Prohibition Enforcement Act. They were commonly referred to as "Dry Agents" and were the bane of bootleggers and all who would partake in the manufacture, distribution and sale of illegal liquor during this period of United States history.
Carl Metta was one such agent. Metta, age 34, had compiled a record number of raids and arrests during his time as a Dry Agent and had also made hundreds of enemies and received threats too numerous to count.
According to Federal Prohibition Agent-In-Charge Charles J. Burns, Metta had become so well known in certain parts of the city that Washington wanted him transferred to Toledo. Metta refused the transfer, choosing to stay in Cleveland with his wife and 6 month old son, William. Metta worked for the Federal Prohibition Enforcement Officer since the start of the prohibition until the December preceding his murder. Burns said he still carried his badge and commission and was serving the federal government without pay while working for the Mayor's court in Fairview Park.
Carl Metta was assassinated in the doorway of his home at, 2543 East 38th Street at 5:50 am. Metta's wife Jennie said her husband answered the early morning knock at the door and appeared to know the person at the door. Mrs. Metta heard the intruder order her husband to put his hands up and then several shots rang out, one struck Metta in the chest and the other entered his neck, as Metta turned to escape he was shot two more times both entered the back of his head.
The downstairs neighbor looked out to see what was going on and the assassin fired once at him narrowly missing his head.
Detective Captain George Matowitz led the investigation and believed from the onset that Metta's murder was directly related to his work as a Federal Prohibition Enforcement Agent. Several suspects were picked up for questioning but no one was ever charged with Agent Metta's murder.
Agent Carl Metta was survived by his wife Jennie and 6 month old son William.