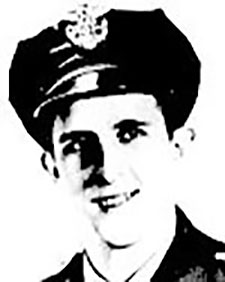 END OF WATCH: March 26,1958
Cleveland Police Department
On March 26, 1958, at 9:17 p.m., Patrolman Joseph Zambramski and Patrolman Edgar Nagie responded to 1287 Winslow Avenue where a male was threatening his wife with a gun. Upon arrival at the Williamson residence, Nagie and Zambramski failed to find the husband. Officers searched for 30 minutes when an informant advised Williamson was at an address on Washington Avenue.
The officers rushed to the location and spotted Williamson. With weapon drawn, Nagie advised he had the rear as Zambramski took the front.
Nagie found Williamson in the back-yard and at about nineteen feet apart, Williamson opened fire with his .32 caliber revolver, emptying all the rounds from his gun. Nagie returned the fire, hitting Williamson in the chest with one of his shots. Williamson turned and ran. Nagie sustained gunshot wounds in his knee, thigh, and chest. As Nagie staggered in the backyard, he screamed for help, then collapsed to the ground.
Zambramski had heard the shots and began chasing Williamson down the street. Zambramski caught Williamson, slugged him with the butt of his revolver and knocked him out.
Patrolman Nagie died just after arriving at Lutheran Hospital.
Williamson died later that night from the wound he received from Nagie.
March 27th, 1958, was to have been a special day for Nagie and his wife, Mary Margaret, as well as for his two daughters, Victoria and Laura Lee. They were going to buy a new home, but the tragic incident ended those plans.
Services were held at Scranton Road Baptist Church at Scranton and Clark. Nagie was buried at Lakeview Cemetery. (Material obtained from the Cleveland Press)
Edgar Nagie's name is inscribed on the National Law Enforcement Officers Memorial Wall, Washington, D.C. panel 43, west wall, line 1.
By Recruit Gregory W. Cornett, Cleveland Police Academy