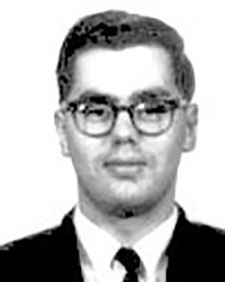 END OF WATCH:  May 14, 1971
Cleveland Police Department
The danger of being a police officer does not stop at the end of an eight hour shift. A police officer is obligated to perform his duty twenty-four hours a day. This obligation extends to making the ultimate sacrifice of laying down one's life. This is how Patrol Officer William Nagy lost his life.
On May 14, 1971, at approximately 2:20 a.m., off duty Patrol Officer William Nagy walked into the Royal Castle Restaurant at West 25th Street and Detroit to get something to eat.
Nagy entered the restaurant in the midst of a "robbery in progress." Waitresses were behind the cash register where Sydney Means was demanding the day's receipts at gun point. Attempting to stop the robbery, Nagy drew his weapon and ordered the robber to "freeze." The robber, Sydney Means, responded by shooting Nagy. Nagy quickly returned the fire, killing his assailant.
A police car patrolling nearby was alerted to the robbery and the shoot-out. The other officers arrived during the gun fight but could not save the fallen officer. Patrol Officer William Nagy was pronounced dead at Lutheran Hospital and his assailant was pronounced dead at St. Vincent Charity Hospital.
William Nagy's name is inscribed on the National Law Enforcement Officers Memorial Wall, Washington, D.C. panel 54, west wall, line 11.
By: Capt. Mike Dugan, Cleveland Police Dept.