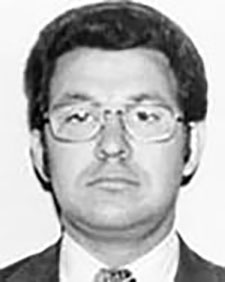 END OF WATCH:  August 9, 1979
Federal Bureau of Investigation
On July 19, 1971, Jonnie Oliver was appointed to position of Special Agent of the FBI. On October 21, 1971, after training at the FBI Academy in Quantico Virginia, Special Agent Oliver was assigned to the Philadelphia Division of the FBI. On November 2, 1972, Oliver was then assigned to the Cleveland Division of the FBI.
On August 9, 1979, while attempting to execute an arrest warrant on a subject named Melvin Bay Guyon, Oliver was shot and killed at an apartment building on Unwin Road, Cleveland, Ohio.
Oliver and Special Agents, William A. Tenwick, Teirney M. Williams, Arthur W. Tate, Jr., Thomas E. Mordaunt, and David L. Wittschen traveled to 2333 Unwin Road, Apartment 3020, Cleveland, Ohio to arrest Guyon. When Oliver confronted Guyon in the bedroom of the apartment, Guyon shot one shot from a .32 caliber revolver striking Oliver in the chest, piercing his heart and both lungs, fatally wounding him.
On August 10, 1979, Guyon was formally charged with fatally shooting Oliver. On August 16, 1979, Guyon was arrested in Youngstown, Ohio without incident. On August 22, 1979, Guyon was indicted by a Federal Grand Jury for charges in connection with the murder of Oliver. In October 1979, Guyon was found guilty of killing Oliver and sentenced to life in a Federal Penitentiary.
Johnnie Oliver was survived by his wife Joan Ann and three children, Randall, 5; Geraldine Ann, 8; and Richard Kevin, 12.
Johnnie Oliver's name is inscribed on the National Law Enforcement Officers Memorial Wall, Washington, D.C. panel 26, west wall, line 17.
By: Thomas F. Jones, Fed. Bureau of Investigations