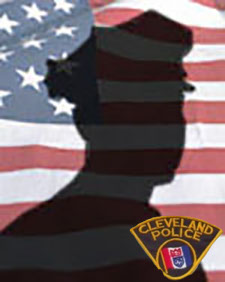 END OF WATCH: December 1, 1853
Cleveland City Marshal's Office
At the beginning of the nineteenth century, Cleveland was a sparsely populated frontier settlement founded in 1796. The early occupants bore the responsibility for protecting their own lives and property.
The promise of a new life in the fertile and forested lands brought more people, many of them immigrants from Europe. Improved trade and commerce due to it's location on Lake Erie and being the terminus of the Ohio and Erie Canal, fueled more rapid growth. The "social ills" that came with this growth necessitated an organized system of law enforcement. In 1836, Cleveland became a city and the City Marshal's Office was established with his assistants known as Watchmen.
As the City continued to grow, the Marshal's office had to contend with increased rowdiness and lawlessness from the patrons of the many saloons in operation. In November of 1853, this "lawlessness" had the most serious consequences for a city employee, Watchman John Osborne.
According to the Daily Cleveland News Herald newspaper, on Sunday night, November 20, 1853, Watchmen, Osborne and Wilcox were walking up Superior Street Hill when an immigrant, John Howly stabbed Osborne in the neck from behind in an unprovoked attack. "The wound was very severe and bled profusely. Watchmen Wilcox instantly struck Howly with his club, staggering him and Osborne dealt him a blow which felled him."
On November 28, 1853, the Forest City Democrat reported "Osborne, the watchman, stabbed recently by a desperado, is in very critical condition, and slight hopes are entertained of his recovery." The article went on to state: "Should Osborne die, the assassin will put in a plea of insanity and of course, escape, nobody gets hanged of late for committing murder."
On Thursday, December 1, 1853, Osborne succumbed to his injury. His obituary in the evening's Daily Cleveland Herald read: "Dead. John Osborne, the Watchman who was stabbed by John Howly, died at eleven o'clock this morning. He leaves a family to mourn his death by violence at the hands of a miserable drunkard."
On April 19, 1854, Cleveland City Council appropriated three hundred dollars to John Osborne's widow and family, the first law enforcement officer to die in the line of duty.
On June 6, 1854, John Howly was sentenced to death by hanging for Watchmen Osborne's murder. The execution was set for September 9, 1854, and was to be carried out on Public Square.
John Osborne's name is inscribed on the National Law Enforcement Officers Memorial Wall in Washington D.C. Panel 54, E -23.
By: Sgt. Charles W. Lane Jr., Cleveland police Department