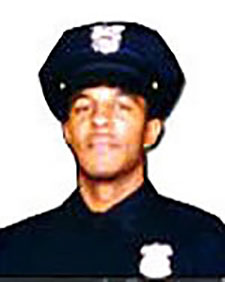 END OF WATCH: March 1, 2008
Cleveland Police Department
Age: 36   |   Badge #746
Officer Derek W. Owens was not a large man by conventional standards, but his heart and personality were much larger than men three times his size. Previous to his becoming a member of the Cleveland Division of Police, Derek worked as a probation officer for Cuyahoga County in the Juvenile Division, where he attempted to counsel and advise young men of the wrong paths that their lives were on and what they needed to do to change to lead productive lives.
After graduating from St. Peter Chanel High School in Bedford, Ohio, Derek attended the University of Toledo where he met his wife Ericka. He completed his degree at Cleveland State University, where he was a member of Alpha Phi Alpha fraternity. He was looking forward to completing his Masters Degree from the University of Phoenix in June of 2008.
Although his family was worried about his safety, his parents, Barbara and Wayne, encouraged him to follow his dream to become a police officer. Derek was assigned to the Cleveland Police Academy on September 28, 1998. As a bright recruit, he never failed to make his classmates smile and persevere through the difficult moments, which came with being a recruit in the academy. He was someone that people instinctively followed because of his strong character and charisma. On February 9, 1999 Derek graduated from the academy and was assigned to the Fifth District. After a short period of time, he transferred to the Fourth District where he worked for almost ten years.
On February 29, 2008, at approximately 1825 hours Derek and his partner, and fellow academy classmate, Robert Goines were working Zone Car 412.
While on patrol they spotted a group of males in front of an abandoned house, a location known for loitering and drug sales. Owens and Goines observed the males drinking beer out of open containers and proceeded to investigate further. As the officers approached, the males began to flee on foot. Owens went one way while Goines traveled in the opposite direction each chasing different suspects. After a brief foot pursuit, Owens made a radio broadcast stating that shots were fired and he had been hit.
Fellow officers transported Derek to Metro Health Medical Center where he underwent several hours of surgery. Unfortunately, his injuries were too severe and he passed away on Saturday, March 1, 2008 at 0030 hours.
Patrol Officer Derek W. Owens is survived by his wife Ericka, his children Sydni and Chandler, his parents Wayne and Barbara, and his sister Dr. Dawn Owens-Watterson, as well as a host of family members, friends, fraternity brothers and members of the law enforcement community.
The Cleveland Police Department retired P.O. Owens badge in ceremonies on Thursday, May 15, 2008.
By: Randy Daley