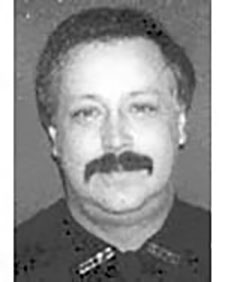 END OF WATCH: May 19, 1986
Macedonia Police Department
Gary Allen Paster wanted to be a police officer his whole life. His dream came true when he was hired and sent through the academy by the Village of Northfield. Shortly after the academy, Gary was promoted to Patrolman by the Village, and then he was offered a position with the City of Macedonia.
Gary was happy, he had his dream job, his pretty wife Linda and two wonderful children. Tracy Renee, despite having been born with crippling arthritis, was a Girl Scout and was most definitely Daddy's girl. Christian Robert was a strong, athletic boy and Gary looked forward to each baseball season when he could coach his son's team.
Patrolman Gary Paster worked three jobs, the City of Macedonia, Northfield race track, and security in a hospital. Tracy was in and out of Rainbow Children and Babies Hospital and the bills were high but Gary was content. Tracy was getting older, almost thirteen and her trips to the hospital were getting fewer and farther between. His son, a strong, handsome young man, was approaching championship level as a bowler. Life was good.
On May 15, 1986, Patrolman Paster climbed into Unit #475 and began what was to be his final tour of duty. Around 1:30 a.m. Paster was dispatched to the neighboring city of Sagamore Hills where an officer was calling for back-up after discovering an open door during an alarm drop. Paster activated his overhead lights and siren as he knew that an open door alarm drop meant there was a good possibility someone was inside.
As Paster entered the intersection of Rt. 8 and Rt. 82 in Macedonia, he was struck by a vehicle that had crashed a red light. It is unknown if the driver of the car was trying to beat the cruiser or was not paying attention. Ironically, there was an ambulance directly across from the intersection who called for Lifeflight to take Paster to Cleveland Metro Hospital. Paster remained in a coma for two weeks before he died of his injuries on May 29, 1986.
Gary was not able to see his son finish high school, enter college, play football, or become a star bowler. He was not able to see his daughter complete very successful surgeries, be elected to the Who's Who of American High School Students, or become an award winning medical secretary.
Although Gary Paster's life was cut short, his family is filled with pride. They know that Gary died doing what he loved and that he was a truly happy individual. Maybe he was a little luckier than many others.
Gary Paster's name is inscribed on the National Law Enforcement Officers Memorial Wall, Washington, D.C. panel 46, east wall, line 17.
By: Michael J. Swiney, Lakeland Community College Police Dept.