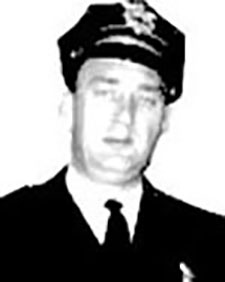 END OF WATCH:  September 15, 1960
Newburgh Police Department
On February 25, 1958, Captain Edward H. Perdian of the Newburgh Heights Police Department stopped a traffic violator on the Willow Freeway (now I-77) in the City of Cleveland which bordered the Village of Newburgh Heights. While seated in his police car parked on the shoulder of the freeway behind the violator's vehicle, an intoxicated eighteen-year-old driver veered off the roadway at a high rate of speed and struck the rear of Perdian's vehicle.
The violent impact of the collision demolished the cruiser and threw Captain Perdian against the steering wheel, causing severe head, chest and spinal injuries. Captain Perdian was taken by ambulance to St. Alexis Hospital for emergency treatment. A lengthy hospital stay resulted, and he was eventually transferred to Lutheran Hospital for long-term treatment and rehabilitation. He was in and out of the hospital for 15 months, never fully recovering from his injuries.
On September 15, 1960, Captain Perdian died at Lutheran Hospital. His death was caused by a blood clot to his heart attributed to the severe injuries sustained in the on-duty collision.
Edward H. Perdian was survived by his wife Elizabeth and three children, Phyllis, Joyce and Edward M. who followed in his father's footsteps, eventually becoming a police officer with the Village of Moreland Hills.
The eighteen-year-old driver was arrested for driving while intoxicated, charged, convicted and was fined for his offenses, which he subsequently paid. Captain Perdian paid a much higher price.
Captain Perdian's sacrifice was nearly forgotten. In June of 2000, Edward M. Perdian contracted the Greater Cleveland Peace Officers Memorial Society informing us about his father's story. With assistance from Cuyahoga County Coroner Elizabeth K. Balraj, MD, it was confirmed Captain Perdian's death was a result of injuries sustained in the line of duty.
Edward H. Perdian's name is inscribed on the Greater Cleveland Peace Officers Memorial.
Edward H. Perdian's information was forwarded to the Ohio Peace Officers Training Commission for inclusion on the Ohio Peace Officers Memorial in London, Ohio, and to the National Law Enforcement Officers Memorial Fund for inclusion on the National Law Enforcement Officers Memorial in Washington, D.C.
By Edward M. Perdian and Charles W. Lane, Jr.