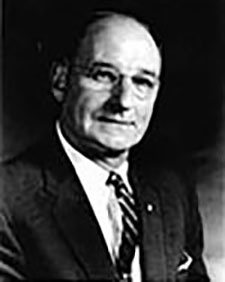 END OF WATCH:  February 10, 1964
Bentleyville Police Department
No one will ever know whether Chief Peterman was ill when he responded to an emergency call. One thing is certain, he performed his mission. The Chief took a tank of oxygen and applied a face mask to a male resident on Cannon Road, Bentleyville. The man had been stricken with a heart attack. The Chief restored the man to consciousness. He then walked into the kitchen and told the man's wife, "I think I'm going to black out," and slumped to the floor.
The wife rushed outside to summon police Lieut. Jack Murtaugh who was waiting to direct the ambulance. They both returned to the house and found the previously stricken man applying oxygen to the stricken police chief. The wife said her husband was familiar with first aid training and efforts to revive the Chief were in vain.
Chief Peterman headed the rural police staff since 1954 and was also an inspector for the U.S. Treasury Department for eleven years. The Chief was a Mason with the Solon Lodge. Peterman's wife Helen had died eleven months prior to his death and his mother just one week before his death.
Chief Peterman was survived by a son Robert and a sister, Mrs. Emma Mahoney.
By Norm Drew, Greater Cleveland Peace Officers Memorial Society