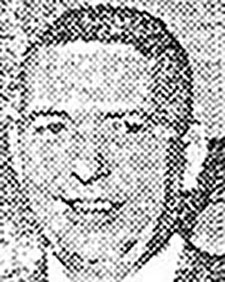 END OF WATCH:  December 8, 1975
Cleveland Police Department
Age: 56
Throughout his career Captain Jerome C. Poelking learned many facets of the Department which made him a great asset serving the citizens of Cleveland. He joined the Division of Police on May 1, 1942. After completing the police academy he was assigned to the 5th District.
On April 4, 1944, Patrolman Poelking took a leave of absence to serve his country in WWII. After returning home from his service overseas, he was reassigned back to the 5th District.
In the spring of 1955, he was promoted to the rank of Sergeant and then transferred to the Scientific Investigation Unit. He subsequently continued to make further promotions to Lieutenant and then Captain. On October 1, 1969 he was put in charge of the Detective Division.
On Friday December 5, 1975 at approximately 2130 Hrs., Captain Poelking received a telephone call at his home while he was hosting a party, stating that there were hostages being held in the basement of a tavern. Since he was the Chief of Detectives, he was requested to respond to the scene.
Upon arriving at the Voyagers Lounge at 11802 Kinsman Rd., he went to the basement of the establishment for further investigation to confer with the Detectives already on scene. While he was exiting the very congested basement area in which there were some 17-19 people, he was spat upon in the face. Over the next several days, Captain Poelking complained to his wife, Mary, he did not feel well.
On December 8, 1975, he awoke suffering from chills, a temperature of 104 degrees, and difficulty breathing. He was then transported to Hillcrest Hospital where he died a short time later.
Captain Poelking was 56 years old at the time of his death. He was scheduled to go to California to see family and attend the Rose Bowl game.
Jerome Poelking was survived by his wife, daughter, Mary, and three sons; Jerome Jr., Thomas, and James.
An investigation by the Ohio Bureau of Workers Compensation and a panel of physicians ruled Capt. Poelking suffered a rare but fatal blood infection that was a direct result of an illness incurred while performing his function as a police officer. It was never determined who spat upon Capt. Poelking causing his fatal illness.
Jerome C. Poelking's name is inscribed on the National Law Enforcement Officers Memorial Wall in Washington D.C. Panel 36, E-23.
By: Randy Daley