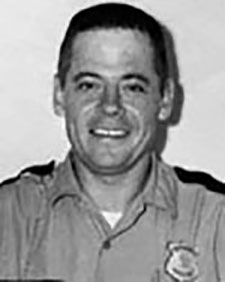 END OF WATCH:  November 10, 1975
Bedford Heights Police Department
Sergeant William A. Prochazka was shot and killed about 1:30 p.m. when he surprised three men attempting to rob the Blonder Company store across from Southgate Shopping Center.
Officer Prochazka and his partner, Detective James Toth, were cruising near the Center, when Prochazka advised he needed drop by Blonders to show employees mug shots of known robbers. About five weeks earlier, several men tried to rob the store and Prochazka hoped employees could make a photo identification.
Officers were unaware three men armed with three pistols and a shotgun entered Blonders moments earlier, ordering the six employees and five customers into a rear washroom hidden from view by a folding, leather door.
Officer Prochazka entered, and, seeing no one, walked to the rear and opened the leather door. One of the men shot him in the neck without warning and all three men ran out the rear door. Officer Toth heard the shot and ran in to find the Sergeant on the floor, unconscious.
Suspect descriptions were obtained from witnesses as well as vehicle and license plate number. A massive manhunt for the gunmen was launched by all southeastern suburbs and the Cleveland Police.
Before 3:00 pm, Cleveland police arrested the three suspects at East 131st Street and Southview Avenue. Two pistols were found but no shotgun.
Coroner, Dr. Samuel Gerber, advised Sergeant Prochazka died from the gunshot wound.
Sergeant Prochazka was in charge of the juvenile unit and gave help to troubled youngsters. His neighbors stated he was always ready to lend a helpful hand. Mayor Lucill Reed said, "He was always with kids. He counseled kids in trouble confidentially and they respected him." Police Chief Meuti praised the officer as a good policeman.
Sergeant Prochazka was laid to rest at All Saints Cemetery. He was survived by his wife Loretta and four children, Mrs. Michael Macik, William, Robert and Brian.
William Prochazka's name is inscribed on the National Law Enforcement Officers Memorial Wall, Washington, D.C. panel 15, west wall, line 1.
By: Norm Drew, Greater Cleveland Peace Officers Memorial Society