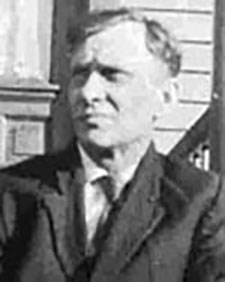 END OF WATCH: February 27, 1925
Cleveland Police Department
Age: 49
The way Patrolman Henry Richter met his death on February 26, 1925, was reminiscent of tales of the old west where two men stood toe-to-toe and emptied their guns until one or both fell.
Patrolman Richter was detailed to the National Refining Company gasoline station at E. 141st Street and St. Clair Avenue in anticipation of a possible robbery following a series of gas station robberies in the area.
At about 9 pm, a lone robber, later identified as 20 year old Earl Wagner of Cleveland, entered the station and commanded the attendant, Loften Ritter to open the safe and turn over the cash to him. "So you are here again," the attendant said. This was a signal agreed upon to inform Richter, hidden in a back room that something was wrong. "Get in that back room," the robber ordered. He opened the door to the back room and was greeted by a shot. He returned the fire, and then both Patrolman Richter and Wagner emptied their guns at each other, standing only a few feet apart. Five of the shots fired by Richter took effect, and two of the robber's seven shots lodged in Patrolman Richter's chest. The attendant was wounded, but not seriously, from stray bullets.
Patrolman Richter and Wagner were taken to Glenville Hospital, where more than fifty policemen volunteered to give their blood to save Richter. Richter's wife and five children came to the hospital from their home and stayed at his side until his death at 9:45 am, February 27, 1925.
Up to his death two days later, Wagner insisted he was "Edward Wertz" of Chicago, Illinois, and would not reveal who his accomplice was. Wagner's identity was learned by chance through a seamstress at Glenville Hospital. Wagner's accomplice, Walter Killbeck, acted as a lookout for Wagner and ran when the shooting started, was later arrested, tried and sentenced to life imprisonment.
Henry Richter was an 18 year veteran of the Cleveland Police Force and served faithfully and courageously. In 1915, Henry had a previous brush with death in a famous gun battle against burglars in a house at Herrick Road and St. Clair Avenue. Henry was planning on taking an upcoming Sergeant's exam.
Richter was born on May 5, 1875, in Cleveland, Ohio and was forty-nine years old when he met his untimely death. A short resume of Richter's life shows he was baptized and confirmed a Lutheran. At 23, Henry enlisted into the Navy during the Spanish-American War and served aboard the U.S.S. Terror as a seaman. Henry saw active duty in the battle of Manila Bay and was honorably discharged on October 19, 1898.
Henry returned to Cleveland and married Miss Cora Rosengarten on August 2, 1899, they were blessed with five children, Walter, George, Alfred, Eleanor, and Arthur. On August 2, 1924, they celebrated their Silver wedding anniversary, a joyous event shared by family and a host of intimate friends.
Henry Richter had many friends and was especially well liked by those who knew him best. He also had enemies who disliked him because of his honesty and integrity. The Richter family remained in the Cleveland area after Henry's death. His children are now gone but his grandchildren and their families remain. Walter's son, Walter Henry, Jr. (now deceased) lived in Mentor; Albert's son, Robert, and his son Steve and grandson Jeff live in Wickliffe; George's son, G. Paul lives in Richmond Heights, while his son Steve and grandson Alex, live in Akron; and daughter, Sandy True, granddaughter Callie and grandson Gregory live in Cleveland Heights.
Information on Henry Richter was submitted by Richter's grandson, G. Paul Richter, based on family records and photographs as well as articles appearing the the 1925 Cleveland Plain Dealer.
Henry Richter's name is inscribed on the National Law Enforcement Officers Memorial Wall, Washington, D.C. panel 28, west wall, line 12.
Written By G. Paul Richter, Grandson