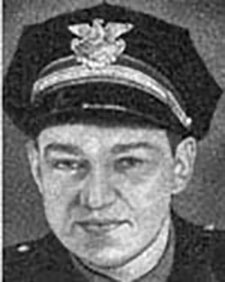 END OF WATCH: July 8,1956
Valley View Police Department
Age: 45
The murder of Officer Robertson begins with a strange and unusual account of a series of connected incidents.
On Saturday July 5 1956, ex-convict, Norman Walker began his Saturday night of terror by hunting for a divorcee who previously dated him. When he found her in a Bedford bar with another man, he walked up to the table, smashed a glass, said "Good luck", and left. When the woman returned home, she found Walker threatening her daughter with a shotgun.
To free her daughter, the woman responded to his demands and got into his car. They drove about aimlessly, Walker occasionally threatening her with a knife. Finally, Walker parked on Brookside Road in Independence.
In the meantime, Independence Police investigating a holdup of the local Howard Johnson's restaurant left for Cleveland to check on two suspects. As was customary, Valley View police covered the village for Independence police when necessary.
Patrolmen Robertson and partner Patrolmen Gabram shifted into Independence. While on Brookside Road, they observed a parked car (Walker's) and stopped. Officer Robertson walked toward the car and without warning, was cut down by a 12ga shotgun blast. Gabram radioed for help and then emptied his revolver into Walker's car.
When Bedford police arrived for back-up, police ordered occupants to surrender. A frightened woman emerged stating, "I saw him aim the gun, but I couldn't see who he was shooting at because I was on the floor." Police fired fourteen rounds into the car before rushing it, finding it empty.
In one of the most intensive manhunts in Cuyahoga County history, Police from 20 suburbs along with a 200 man posse beat the brush and set up roadblocks in a five mile area. Walker was arrested by Seven Hills officers concluding 7 1/2 hour search. Walker surrendered meekly with the shotgun and shotgun shells and a hunting knife in his pockets.
In 1956 under Ohio Law, killing a policeman in the performance of his duty was 1 degree murder. Norman Walker was executed in the Ohio electric chair.
Robertson was a World War II veteran and those who knew "Tiny" loved him. He was big framed (six feet, four inches and two hundred fifty pounds) and big of heart.
Garner Robertson was survived by his wife Georgia, daughter, Doris Jean, son, 2nd Lieut. Garner III, and his parents.
Garner M. Robertson's name is inscribed on the National Law Enforcement Officers Memorial Wall, Washington, D.C. panel 29, west wall, line 14.
By Norm Drew, Greater Cleveland Peace Officers Memorial Society