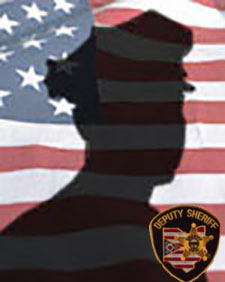 END OF WATCH:  July 26, 1965
Geauga County Sheriff's Office
Age: 52
On July 28, 1965 Deputy Lummie Sanders was involved in a three-car accident on Mayfield Road which ended his life.
At 4:05 am, Deputy Lummie Sanders and Deputy Eugene Baker were eastbound on Rt. 322, responding to a domestic call when a westbound vehicle pulling into a gas station made a left turn in front of their cruiser.
Deputy Baker attempted avoiding hitting the car and skidded into another westbound vehicle. The impact ejected both deputies out of the cruiser. Deputy Baker sustained serious head injuries, however Deputy Sanders died instantly.
Deputy Sanders was survived by his wife and eight children.
Lummie Sanders' name is inscribed on the National Law Enforcement Officers Memorial Wall, Washington, D.C. panel 63, west wall, line 14.
By Norm Drew, Greater Cleveland Peace Officers Memorial Society