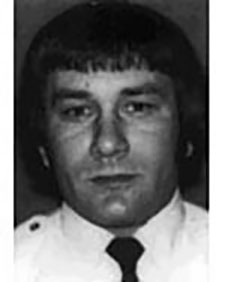 END OF WATCH:  April 26, 1974
Cleveland Police Department
Officers often said William Shapiro was born to be a policeman.
Bill grew up in a law enforcement family and was quite proud of his father, who was a career Federal Bureau of Investigation Agent. Bill started his law-enforcement career as a civilian employee for the Federal Bureau of Investigation. Wanting stability for his wife and children, Bill opted for the Cleveland Police Department over an out-of-town transfer by the F.B.I.
After assignments in the Third and Fifth Police Districts, Bill was transferred to the Task Force which specialized in the apprehension of violent criminals. Bill's conversational skills and quick wit proved to be assets when, on several occasions, he was able to talk armed, barricaded offenders into peacefully surrendering. It was Bill's sense of humor that endeared him to all of his fellow officers. Just talking to Bill could pick up your spirits when you felt down.
April 26, 1974, was a warm spring day. Bill Shapiro was teamed up with his permanent partner, Bill Salupo. The two officers received a call of a male shooting at passing cars on Fairhill Road.
The suspect was spotted running behind some bushes in the vicinity of the Baldwin Reservoir. Officer Salupo signaled Officer Shapiro of the suspect's presence. A shot was heard and Shapiro called to his partner. Patrolman William Shapiro was mortally wounded in the neck by a shotgun blast.
A massive search was undertaken. Cleveland Police Sergeant Chuck Depenti and Officer Andy Faitz arrested Anthony Roden for the murder of William Shapiro.
Roden was declared legally insane and confined to a state mental institution.
William Shapiro's name is inscribed on the National Law Enforcement Officers Memorial Wall, Washington, D.C. panel 44, west wall, line 17.
By Capt. Mike Dugan, Cleveland Police Dept.