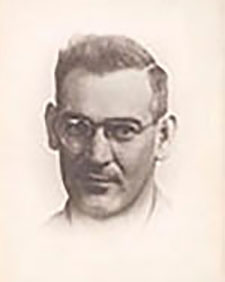 END OF WATCH:  May 4, 1957
Wellington Police Department
Age: 39
On May 4, 1957, Patrolman Smith was dispatched to a residential disturbance. Apparently, the female homeowner was calling from a neighbor's home. The female advised, Mr. Walter Byomin called her earlier wanting to see her. The female declined, and now, Walter Byomin and his roomer, Onus Redwine were at the residence.
When Officer Smith arrived, Byomin and Redwine had been arguing and Byomin was going to his car for a gun. Redwine informed Smith that Byomin had a gun and when Byomin saw the officer, he drove off with Smith in pursuit.
Several miles later, Byomin stopped at Barker Street and was witnessed running up to the cruiser while Smith ran around to the far side, stopped, facing Byomin. Byomin emptied his pistol at Smith and Smith fell to the ground. Byomin ran back to his car as Officer Smith dragged himself to the front seat of the cruiser. Byomin then returned, dragged Smith from his car, and beat him with a metallic object. He held Smith with one hand and pounded Smith's head with the weapon until Smith fell. Byomin then pulled the officer upright and beat him again, after which, he stole Smith's gun and sped off.
Witnesses chased Byomin, who blew a tire, at which time the Sheriff's Office was called. Deputies responded and ordered Byomin to surrender. As Byomin was handcuffed, he told deputies he was going to shoot it, but both his guns jammed. Police later said Smith fired two shots and Byomin fired six and then reloaded his gun. It also was verified both guns were jammed.
Walter J. Byomin confessed to slaying Smith. Byomin had a prior record and in 1957, the death sentence was mandatory for killing a police officer in the line of duty.
Edmund Smith was appointed to the Wellington Police Department on March 5, 1957. He had also served as Chief of Police for Wakeman for two years.
Smith, 39, was survived by his wife Margaret, two daughters, his parents, and a brother Howard, a Bay Village policeman.
Edmund G. Smith's name is inscribed on the National Law Enforcement Officers Memorial Wall, Washington, D.C. panel 42, west wall, line 12.
By Norm Drew, Greater Cleveland Peace Officers Memorial Society