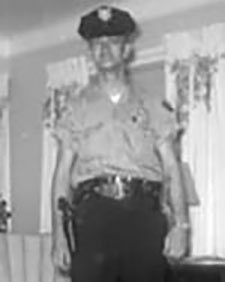 END OF WATCH: March 9, 1993
Cleveland Police Department
Age: 57   |   Badge #1232
During the first day of the Glenville riots in July, 1968, Cleveland Patrolman Thomas J. Smith was nearly shot to death in a shoot-out with Black Nationalist snipers. He was instantly paralyzed from the waist down as the bullets hit. His life changed forever at 33.
Patrolman Smith dodged gunfire to pull two wounded fellow officers to safety as members of Fred (Ahmed) Evans' cult shot from carbines. In an effort to help a third officer, Smith was hit by a bullet that burrowed through his left shoulder and bounced off his backbone.
Moments later, another bullet struck him in the jaw and shrapnel pierced his chest. Smith lay on the ground for two hours during the shootout until rescuers could reach him.
The date was July 23, 1968, always described since as Cleveland's bloodiest night. Three policemen were killed, and Smith was among ten wounded during that opening episode of the riot at Lakeview Road and Auburndale Avenue on Cleveland's East Side.
Smith was first taken to Lakeside Hospital of University Hospitals. For 22 months, he underwent reconstructive procedures, including surgery to rebuild his shattered face, at the Veterans Administration Hospital in Wade Park.
He was also given physical therapy there, though that was not successful. He spent his last 25 years in a wheelchair or a bed. He had been a patient at MetroHealth Medical Center since February 2, 1993 because of a blood infection. He died there on Tuesday, March 9, 1993, of heart failure at age 57.
Officer Smith officially retired from the Cleveland Police Department on February 8, 1987. His badge was placed in the Justice Center in May, 1993, along with those of other fallen officers.
He lived with his sister Margaret in her home in Brooklyn since the shooting.
Officer Smith was commissioned a patrolman in December, 1963, and served in the city's Fifth District. His bravery in assisting fellow officers during the riot led to his being awarded the City of Cleveland Medal of Valor in 1969 for actions above and beyond the call of duty. Before joining the police force, he served in the Army. He was a Private First Class stationed in Alaska from 1958 to 1960.
In addition to his sister, he was survived by a daughter, Elizabeth Veomett of Colorado Springs, Colorado; a brother, Bernard of Medina Township; a granddaughter; seven nephews; and five nieces.
Thomas J. Smith's name is inscribed on the National Law Enforcement Officers Memorial Wall in Washington D.C. Panel 6, W-24.
By: Pauline Thoma, Reporter, Cleveland Plain Dealer