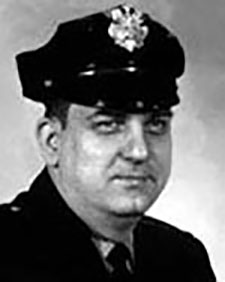 END OF WATCH:  October 5, 1976
Garfield Heights Police Department
Age: 45 | Badge# 13
Hubert Smykowski, Sr. was a police officer in Garfield Heights until he died in action on October 5, 1976. "Bert," as everyone called him, was appointed to the Garfield Heights Police Department on July 16, 1962.
At 6:00 am, Smykowski and other officers were responding to a hit-skip accident involving a car slamming into a house. Upon arrival, they found a car slammed into the front of a house on East Boulevard. Witnesses advised two men left the scene and fled on foot toward the Miles Avenue area in Cleveland.
Smykowski and two other officers began searching the area. Officers found two men matching the description and a short foot pursuit ensued. Officers chased one of the suspects to a home on East 126th Street and Miles Avenue. The suspect ran up on the front porch and jumped through a picture window. Smykowski and the other officers followed, finding the suspect hiding in a closet. After a brief struggle, the suspect was handcuffed. While walking the suspect to the cruiser, Smykowski collapsed and was rushed to Marymount Hospital where at 6:42 am, he died as a result of a massive heart attack.
The second suspect was arrested a short time later that day on East 128th Street.
Officer Smykowski resided with his family on Shadyoak Boulevard in Garfield Heights. He was survived by his wife of twenty-one years, Joan and their three children, Yvonne, 19, Hubert, Jr., 18, and Jeffery, 13.
Mrs Smykowski said to me, "Don't let anybody tell you that time heals because it doesn't. I remember the day Bert died as if it were yesterday. Bert really enjoyed being a cop and loved to keep busy. He loved working on cars and play pinochle, and especially enjoyed remodeling the house."
It poured rain the day they buried Bert Smykowski, Many law enforcement officers turned out to honor their fallen comrade. Two officers ceremoniously guarded his casket and even though it was an overcast rainy day, a large group had gathered at Rybicki's Funeral Home on Turney Road to pay their last respects.
The funeral procession traversed to St. Monica's Church on Rockside Road where a Catholic Mass was said and then proceeded to Calvary Cemetery on Miles Avenue where Smykowski was laid to rest.
The car involved in the accident turned out to be stolen and the two suspects apprehended and charged with Patrolman Smykowski's death.
In 1992, Smykowski's family resides in the same house on Shadyoak Boulevard. There were then five grandchildren who will never know their grandfather. They will only know this story.
Hubert Smykowski was instrumental in initiating the department's computer system. In remembrance, badge number 13 has been placed in a wooden case at the police station.
Hubert Smykowski's name is inscribed on the National Law Enforcement Officers Memorial Wall, Washington, D.C. panel 39, west wall, line 3.
By: Keith Witkowski, Greater Cleveland Peace Officers Memorial Society