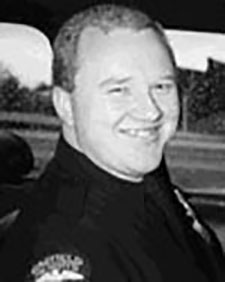 END OF WATCH: December 8, 1994
Garfield Heights Police Department
Age: 30
There was only one thing Bob Stefanov ever wanted to do, follow in his father's footsteps and be a good police officer. On September 18, 1989, Bob's dream came true, that's the day he was appointed a Garfield Heights Patrolman.
A few days later was to be my luckiest day, although I didn't know it at the time. I was asked to be Bob's training officer. After 20 years on the Department and my share of "rookies", I reluctantly said yes.
For some reason, I took a liking to Bob the moment I met him. I don't know if it was his smiling face or the way he said he couldn't wait to get on the road that made me like him.
I really didn't have to teach Bob much. He was a natural at this job, always so eager and anxious to do everything just right. He was always full of questions on proper procedures and what was the best way to handle certain situations. I remember watching Bob in several different situations and saying to myself "this rookie is going to make one great cop." He had terrific cop instincts but was still, kind, compassionate, caring and always watching out for his fellow officer. Bob Stefanov was definitely one guy you wanted for back-up.
I may have trained Bob, but he taught me something in return, the meaning of "true" friendship. We were more than partners, we were best friends. Actually, we were more like father and son. That's how much we truly cared about one another.
During the course of our friendship, I learned a lot about Bob. He had worked security at Sears in Randall Mall before being hired at Garfield Heights. He was so proud the day he was sworn in, because now he was fulfilling his dream of following in his father's footsteps. He always hoped to be as good a cop as his Dad was.
Bob always enjoyed talking about his parents and his brother, Joe. However, when it came to his son Michael, 6, and Sue, the love of his life, there was no stopping him. He would talk endlessly about how much fun they all had together and about all of the plans he had for their future together. He truly loved and treasured every moment he spent with them.
On December 8, 1994 at approximately 3:00 a.m., all of our lives changed. Patrolmen Bob Stefanov, and Mike Brown, observed a suspicious vehicle in the area of McCracken and Broadway Roads. As they went to investigate, the vehicle drove off. They attempted to stop the vehicle by activating their emergency lights and siren. The vehicle continued pulling away from them. They radioed in the license plate of the vehicle and were advised that the owner was wanted on a traffic warrant. They continued to pursue the vehicle, and at the intersection of Lee and Harvard Roads, another vehicle crossed their path. They attempted to swerve around the vehicle but struck the front of it. The police car then went out of control, striking two utility poles and causing fatal injuries to both officers.
There is a special closeness between all officers – we are all brothers. There was, however, an extra special bond between me and Bob. I was very proud to have trained him, rode with him, and, above all, developed the close friendship we had. Work isn't the same for me anymore because Bob's not there. I don't get to hear his laugh, to see his smile or to talk to him.
I truly believe that Patrolman Bob Stefanov, Patrolman Mike Brown and Sgt. Dennis Glivar are at peace and with God. I know they are watching over all of us who put our lives on the line everyday and are hoping and praying we don't have to make the ultimate sacrifice as they did.
Robert A. Stefanov's name is inscribed on the National Law Enforcement Officers Memorial Wall in Washington D.C. Panel 24, E-19.
Michael W. Brown's name is inscribed on the National Law Enforcement Officers Memorial Wall in Washington D.C. Panel 34, E-19.
By: Detective Robert Soltis, Garfield Heights Police Department