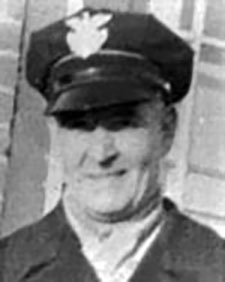 END OF WATCH: May 12, 1952
Cleveland Police Department
Patrolman Stinchcomb was a mounted officer assigned to the East side working traffic duty on the corner of East 105th Street and Euclid Avenue. During the course of his duties, he was called to quell a disturbance aboard a CTS bus.
The complainant, Annabelle Franke, stated a man on the bus burned her hair and pointing out a subject later identified as Lawrence Goldby. Patrolman Stinchcomb tried talking to Goldby and remove him from the bus. Goldby grabbed Stinchcomb's revolver and began shooting, killing Patrolman Stinchcomb and the complainant. Goldby then shot and killed passengers, William Power and Helen Garrison.
Off duty Patrolman, Walter Phillips, was in the area and ran onto the bus. Phillips disarmed and arrested the suspect, then directed the bus to the Fifth District parking lot with the bodies and the prisoner.
Lawrence Goldby was declared insane and never stood trial. He was sent to Lima State Hospital for the criminally insane.
Eugene Stinchcomb's name is inscribed on the National Law Enforcement Officers Memorial Wall, Washing-ton, D.C. panel 51, east wall, line 4.
By P.O. Thomas Armelli & Det. James T. Farmer, Cleveland Police Dept.