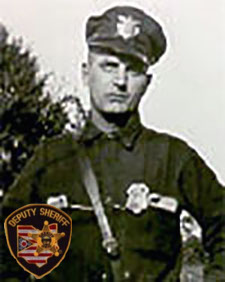 END OF WATCH: June 13, 1930
Lorain County Sheriff's Office
Franklin Strohl was among the first group of deputies hired when Clarence E. Adams took office as Sheriff of Lorain County on January 9, 1929. The Sheriff described Strohl as one of the most valuable men on the force.
On Wednesday afternoon, June 11, 1930, Deputy Strohl was responding to the scene of a serious traffic accident in North Ridgeville. The deputy was passing a street car near the intersection of Cleveland and Olive Streets when a car made a left turn directly in front of him. Eyewitnesses said the impact hurled Deputy Strohl through the air, landing him on his back.
Deputy Strohl was taken to the Elyria Clinic on West Avenue where he died two days later on Friday morning, June 13, 1930.
Franklin Strohl's name is inscribed on the National Law Enforcement Officers Memorial Wall in Washington D.C. Panel 5, W -20.
By Capt. Phil R. Stammitti, Lorain County Sheriff's Office