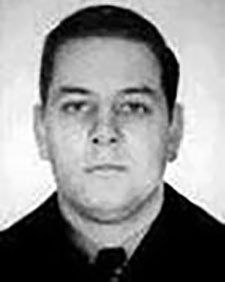 END OF WATCH: August 18, 1942
Elyria Police Department
Age: 29
Officer Taft's chief interest in private life was his wife and his eight month old baby son. Taft was one of the best liked on the force, with a high devotion to his duties and a strict sense of propriety in his work.
On August 18, 1942, while transporting an off-duty officer home, Patrolman Howard Taft was dispatched to investigate a minor traffic accident. Taft's investigation revealed driver, Nathaniel Spuriel, was intoxicated at the time of the accident. Taft decided to take Spuriel and his vehicle to Police Headquarters and instructed off duty officer Andress to follow in the cruiser.
When Taft stopped to free the front fender from scraping a tire, Spuriel removed the keys from the ignition and exited the vehicle. Taft ordered Spuriel to surrender the keys and return to the car. Once inside, Spuriel pulled a gun, fired at Taft and jumped back out. The two grappled at which time Taft pulled his pistol. Unarmed Andress, grabbed a rock and attempted to circle behind Spuriel. Spuriel shot at Andress then followed Taft to the street where both men faced off and fired at each other.
Taft sustained gunshot wounds to the abdomen and hip. Spuriel was struck in the heart three times, killing him instantly. Taft was transported to the hospital where he succumbed to his wounds an hour and a half later.
When police searched Spuriel's car, a woman's dead nude body was found in the trunk. Investigation revealed the woman was involved with Spuriel and had been beaten to death. Both were scheduled for a trial that week for operating a house of prostitution.
Patrolman Taft was survived by his wife Georgia, son Gary, a brother and his mother Mrs. Clifford Waltzer of Cleveland.
Howard B. Taft's name is inscribed on the National Law Enforcement Officers Memorial Wall, Washington, D.C. panel 39, west wall, line 14.
By Norm Drew, Greater Cleveland Peace Officers Memorial Society