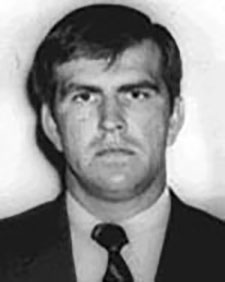 END OF WATCH:  September 28, 1970
Cleveland Police Department
Age: 27
On Monday, September 28, 1970, Officer Joseph P. Tracz had a lot to be thankful for. The former Ohio State football player was about to celebrate his first year as a Cleveland Police Officer. It was a job he loved. A tour of duty as an army paratrooper in Vietnam and a year of working at odd jobs were behind him now. Due to his high number of felony arrests, Tracz was awarded a merit pay raise. The money was coming at a good time, in about two months he and his wife Linda expected their first child. Another blessing came in the form of his partner, Fred Fulton. Joe Tracz and Fred Fulton were co-workers and good friends and seemed to click the first time they met.
On September 28, 1970, At 2:00 am, Officers, Tracz and Fulton observed a 1968 Buick run the red light at East 93rd and Yale. They pulled the vehicle over at East 105th and St. Clair where Officer Fulton exited the cruiser and approached the Buick. Without warning, the driver jumped out and began shooting, striking Fulton in the mouth, chest and groin. A passenger bailed from the Buick and Tracz gave chase. Another flurry of gunfire erupted and Tracz was struck. Although wounded, Tracz tackled his assailant. The assailant got up and fired a final fatal shot that ended the life of rookie Patrol Officer Joseph P. Tracz.
Although shot in the mouth, Fulton managed to crawl back to the cruiser and radio for help. Responding officers found Tracz and Fulton with Tracz still clutching the shoe of his killer.
The 1968 Buick was registered to Leonard Miller, a.k.a. "Skin" but as fate would have it, a nationwide manhunt failed to turn him up. Two years lapsed before Miller resurfaced.
On May 1, 1972, Leonard Miller was arrested about half a block from the site of Officer Tracz's murder while attempting to flee a bank robbery. The shoe found in Tracz's hand was traced to Eddie Hampton.
On May 6, 1972, police raided a Pratt Avenue home on the city's southeast side which produced the second suspect, Eddie Hampton. Tracz's murderer was found cowering in a crawl space.
Leonard Miller and Eddie Hampton were convicted and sentenced to life.
Officer Tracz was survived by his wife and son.
After a long and difficult recovery period, Officer Fred Fulton returned to duty and was promoted to Detective.
Joseph Tracz's name is inscribed on the National Law Enforcement Officers Memorial Wall, Washington, D.C. panel 29, west wall, line 6.
By Capt. Michael Dugan, Cleveland Police Dept.