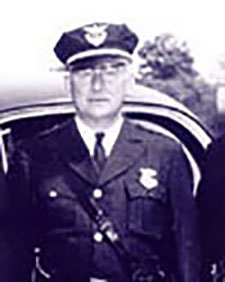 END OF WATCH: March 12, 1950
Fairview Park Police Department
Age: 52
Henry Lloyd Walton began serving the citizens of Fairview Park in 1936 when he was sworn in as a Constable with the village. In 1940 he was elected the town's first Chief of Police. He was a WWI veteran, member of the Fraternal Order of Police Lodge and a thirty-five year resident of Fairview Park.
On Sunday, March 12, 1950 at 12:00 p.m. Chief Walton was working the day shift when he responded to a large working fire in a building that housed apartments and a business. As fire departments from Fairview Park and Rocky River battled the blaze, Chief Walton and other members of the Police Department provided traffic and crowd control to alleviate the congestion that had jammed the scene.
At approximately 1:00 p.m. Police Lieutenant Edward Elliott noticed the chief had returned to his car. He went to check on him and discovered him unconscious and slumped over the front seat of his police cruiser. Chief Walton was taken to Lakewood Hospital.
Lieutenant Elliot went to Chief Walton's Fairview Park home where his family was waiting for him to come home for lunch. Lieutenant Elliott sped the family to Lakewood Hospital where Chief Walton was pronounced dead of a fatal heart attack.
Chief Walton left behind his wife of thirty years Gertrude Walton and two adult sons William and Harold.
Chief Walton's name is inscribed on the National Law Enforcement Officers Memorial Wall, Washington, D.C. Panel 54, W-25.