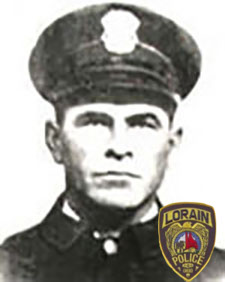 END OF WATCH: December 22, 1923
Lorain Police Department
Appointed to the Lorain Police Department on February 18, 1918, Patrolman Webber was the city's first officer killed in the line of duty. Patrolman Webber was slain while attempting to arrest Walter Thomas, a drunk-crazed gunman. Patrolman Webber and Patrol Driver Mackerty were called to a restaurant by Officer Sageto to pick up a man arrested for causing a disturbance.
Nearing the restaurant, Webber saw a man standing by a bus flourishing a revolver. The officer dashed from the car followed by Mackerty. Webber grasped the wrist holding the gun at which time several shots were fired. Mackerty pulled his gun and fired at the gunman. As Mackerty reached the two wounded men who were wrestling on the pavement, he pulled his black-jack and stunned the gunman.
Officer Sage came out of the restaurant and saw Webber was badly wounded. Sage ordered a bus driver to take Webber to the hospital where he was pronounced dead.
Webber had two wounds, one fired by the gunman, Thomas, the other by Mackerty. The bullet from Mackerty's gun was steel-jacketed and the bullet from Thomas's revolver was lead.
Coroner Perry ruled Webber's death accidental. The autopsy revealed Thomas' bullet grazed the officer's neck and wound would not have caused his death. Mackerty's steel bullet entered Webber's back and penetrated his heart. The Coroner ruled Mackerty was not responsible because the shots were fired in the line of duty. Mackerty had also wounded Thomas in the left arm. At a special preliminary hearing, Thomas was charged with first degree murder.
Officer Webber was one of the best known and one of the most popular men on the force. He was survived by his wife, Rosa and two daughters, Mary and Elizabeth.
Fred J. Webber's name is inscribed on the National Law Enforcement Officers Memorial Wall, Washington, D.C. panel 46, east wall, line 8.
By Roxy Drew, Greater Cleveland Peace Officers Memorial Society